Article Submitted by Chad Carstens
Whitewater High School Head Cross Country Coach
ccarstens@wwusd.org
Photo Courtesy of Peter Mischka
On Saturday, May 1, the Whippet CC teams competed against some of the state's best D1 teams in a WIAA Sectional hosted by Whitewater on the WHS campus. The weather was some of the wildest that we have experienced in recent memory with recorded gusts at 39 mph in the area. Teams traveled from as far away as Gibraltar, Fond du Lac, and the Oshkosh area to earn a trip to the WIAA State Meet to be held on Saturday, May 8th. The top two teams and the top five individuals not on those two teams would earn a trip to the State Meet.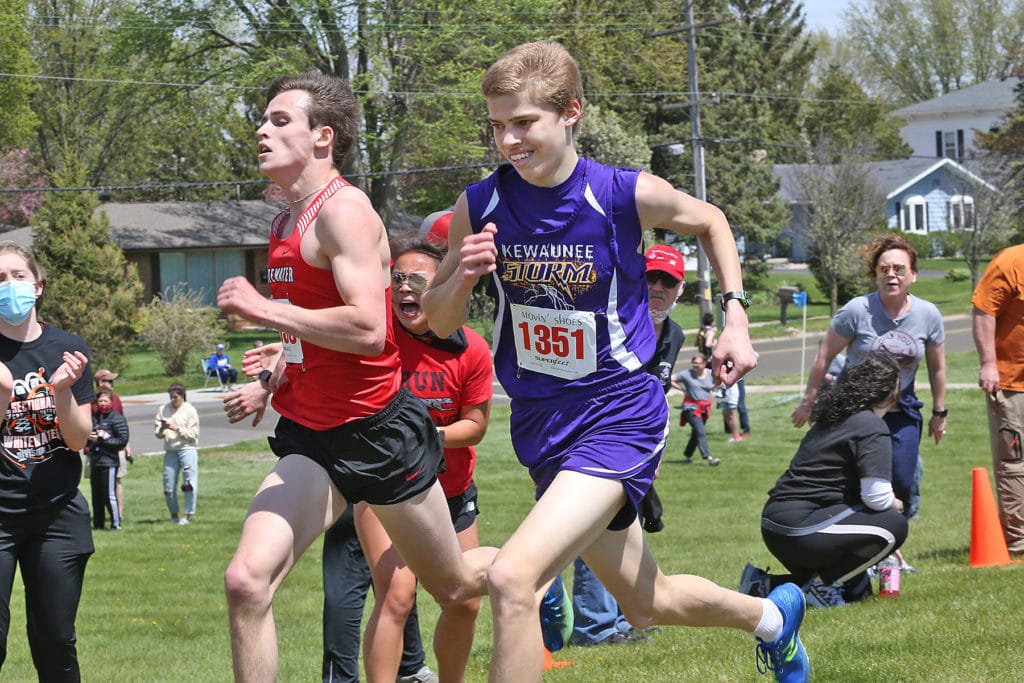 Trenten Zahn was the highlight of the day as he executed perhaps his best race ever in a Whippet uniform. As he detailed the night before, he put himself in 11th place in the first mile, worked his way up to 7th in the second mile, and between 2.1 and 2.5 miles he throttled his way into 4th. Trenten knew finishing in the top 5 would automatically punch his ticket to state, but he wouldn't settle. Whippet CC runners don't settle; they strive for excellence and the pride that comes from within that giving your best is the only option. Furthermore, representing the Whitewater name is both a privilege and an honor. A runner from Kewaunee passed Trenten in the last 60 meters pushing him to fifth, but Trenten found another gear and took his 4th place spot back to finish in a time of 18:18.2. His racing strategy was simply flawless. Trenten certainly made the Whippet faithful proud with his efforts, and he will be rewarded with one more week of training and the joy that State week brings. Trenten will be competing at 11:00 am in Janesville at Blackhawk Golf Course which is a special place as that is the site of the famed Midwest Invitational that the team travels to annually, except this year, due to COVID. However, Trenten will get one last chance to race there along with many other D1 athletes. Trenten more than earned his spot on this extremely wild weather day. This will be Trenten's second State CC meet as he competed there in 2018 as a sophomore.
Also racing for the boys was Junior Cooper Hammond who turned in a strong effort to finish in 30th. Sophomore CJ Tomomitsu fought off hip pain to take 35th. Freshman Nate Holden placed 46th, and Senior Will Hofmann placed 47th. Senior Evan Schepp placed 61st, and Sophomore Keith Cameron placed 62nd. The boys' team placed 6th overall out of the 12 teams represented.
On the girls' side, Junior Sophie Walton resumed the #1 runner position and redeemed herself after a tough race at conference the week prior. She finished in 39th place with a time of 25:23.8. Junior Gwen Truesdale placed 46th, followed by junior Olive Coburn in 52nd, junior Trinity Nickels in 55th, sophomore Caelyn Caputo in 56th, freshman Lauren Buehler in 57th, and rounding out the team at sectionals was Jennifer Villarreal in 61st. The team finished in 9th place out of 12 competing teams.
Full Results can be found at https://my.raceresult.com/169379/
Coach Carstens would like to thank Athletic Director Justin Crandall, Dr. Pate-Hefty, WUSD Administration, Russ Walton, maintenance workers, WUSD Staff, meet day workers, Jeff Miller, CC Parents, Mark Maas, Steve Johnson, Shannon Cushman, and countless others that helped to not only make this day a great day for the sport of cross country but to pull off four home events in a pandemic season at an untested site and passed with flying colors.