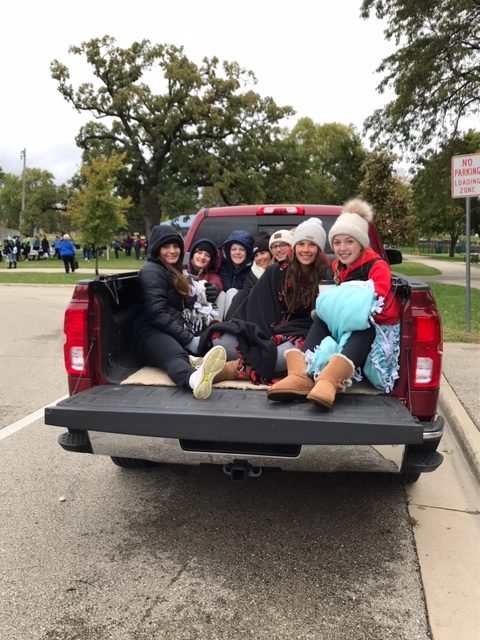 The Whippet volleyball team went 1-1 during Homecoming week. They lost to East Troy 3-0 Tuesday night but rebounded and defeated Clinton 3-0 (25-15, 25-21 & 25-20) Thursday night. The team had one of their best matches serve receiving which led to Cora Linos setting beautifully to the attackers. Kiyla Kopecky took command in the third set from the service line. She served 10 times in a row and had 8 service aces. Kiyla's serves are very difficult to pass due the velocity, flatness and the huge amount of float or knuckle she puts on the ball.
Sunday the Whippets topped off the week of festivities volunteering at the Run For Trey event at Starin Park. It was very meaningful for them to support the family friendly event where the proceeds are used to maintain the field through its endowment and fund 4 scholarships that are given in Trey's name. The benefit the field provides to the youth community teams, the visiting teams from around the region and the students and families who visit is truly amazing.
The Whippets will travel to Edgerton this Saturday for the Rock Valley Conference tournament, where the first match is slated for 9:00 AM against Evansville. Regional play-offs begin Tuesday, October 22, 2019 as Whitewater travels to Walworth to take on Big Foot.
Stat Leaders in the Clinton Match
Assists: Cora Linos-27
Digs: Kacie Carollo-16, Emme Bullis-15
Aces: Kiyla Kopecky-8, Hannah O'Brien-2, Emme Bullis-2
Kills: Emme Bullis-16, Kacie Carollo-8
Blocks: Kacie Carollo 3