The JV Volleyball Teams played some good ball, but fell to the Tide in 3 sets at Edgerton on Thursday, September 22. The coaches are proud of the growth they are seeing. While the end result may not be a victory, the victories are in the improvements we are seeing in each athlete. We are excited for the program growth as a whole this season!
The Whitewater Varsity Squad (3-1 conference, and 15-6 overall) traveled to Edgerton during Edgerton's Homecoming week and took care of business in 4 sets. Edgerton came out playing well in a loud gym in set one. The Whippets started out slowly and while they continued to keep it close, lost the first set 24-26.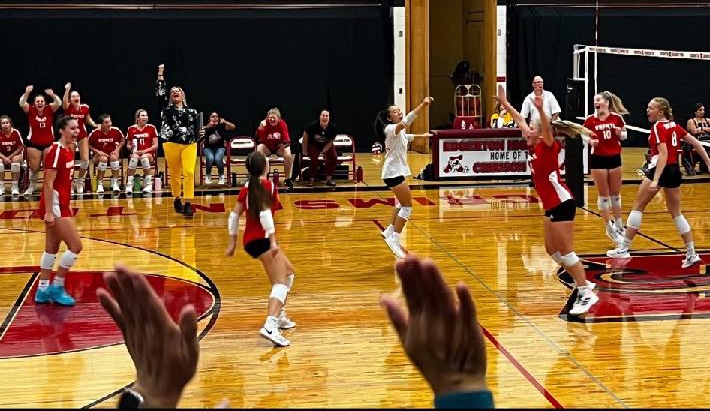 That was the only loss, as this is a team that perseveres, and they never wavered, going 3 straight set wins to take the match 24-26, 25-23, 25-21, 25-14.
Edgerton played tough, but the Whippets are strong both offensively and defensively. We served tough and we stayed focused on defense. Offensively, we continued to run a faster tempo offense. Our serving was tough all night, and so we were able to get Edgerton out of system quite a bit. We capitalized on every opportunity we were given!
The team had to travel twice this week with Beloit and Edgerton. Traveling can be tough, but this varsity squad is laser focused on their goals. They continue to support one another, and they simply have fun playing the game they love!
Statistical leaders included Kindyl Kilar with another double-double, garnering 31 kills, 14 digs, and 2 blocks. Calli Grosinske also captured a double-double with 35 assists and 14 digs. Jenna Pope was blocking strong at the net with 4 blocks on the night. Finally, Caleigh Yang tallied 14 digs in the match.
Ella Spear ended the last set with a dominating ace, and the Whippets now are 3-1 in conference and 15-6 overall. Next up we are at home for Senior Night on Tuesday, September 27 against Jefferson, and on the road at Evansville on Thursday, September 29. We are hoping to continue the high level of play! Hope to see you in the gym!
Article and Photos Submitted by Mary Kilar
Whitewater High School Head Volleyball Coach
mkilar@wwusd.org