On Friday, February 21, the WHS Gymnasts were in action at their Conference Tournament at Elkhorn High School. The Whippets competed against BB, WUW, Elkhorn, Waterford, and Jefferson. At Conference, the Whippet Gymnasts competed their hearts out and had clean, polished routines.
Freshman Halee Peters had a successful meet scoring an 8.2 on Vault, a 7.2 on Uneven Bars, and a 7.65 on the Floor Exercise. Anna Ejnik had a stuck beam routine in which she received a 7.25 and a 7.65 on the Vault. Maddy Donnelly scored a 7.75 on Vault and competed JV Beam for the first time scoring a 6.5. Caleigh Yang scored a 7.2 on Vault and Brenda Aguilar scored a personal best on Vault with a 7.6.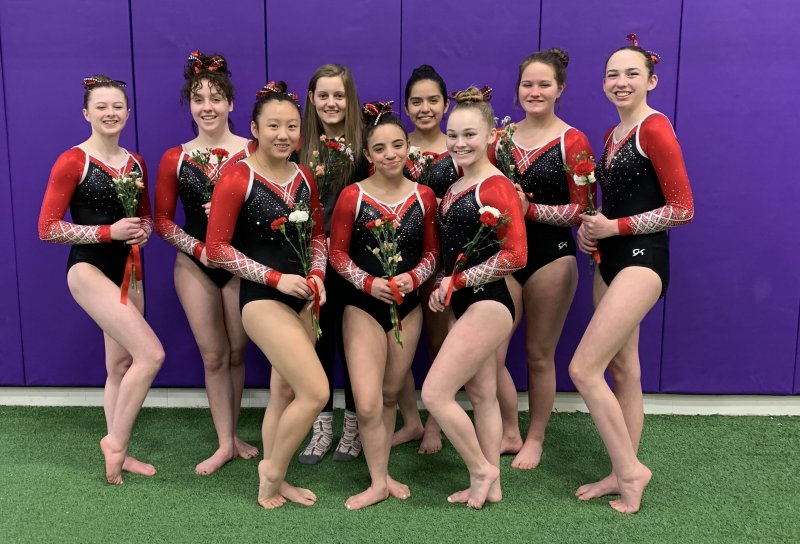 The JV competitors had a successful meet scoring many personal bests. The personal bests included Ashly Xochipa with a 7.3 on Vault, Julia Feit with a 6.9 on Vault, and Brooke Bazeley with a 4.9 on the Balance Beam.
Overall, these athletes had a very successful Conference Tournament, and the WHS Gymnastics Coaches and Parent- Athlete supporters couldn't be prouder of their accomplishments.
If you want to see more flips and twists, come support your Whippet Gymnasts at their Sectional Tournament on Friday, February 28, at Elkhorn High School. Gooooo, WHS Gymnastics!
Article and Photo Submitted by Coach Kelly O'Hara