Article by Chad Carstens, Photos by Peter Mischka
Whitewater High School Head Cross Country Coach
ccarstens@wwusd.org
Thursday was a history making day as the Whitewater Cross Country Teams raced on a true home course arranged on the campus of the high school for the first time in program history.
The boys' program was the first to race in this head-to-head competition against the Jefferson Eagles. Trenten Zahn harnessed the moment and brought the Whippet jersey across the finish line in first with a time of 18:30.9, just ahead of Mason Marin of Jefferson. Trenten looked smooth and under control, showing his maturity as a senior and racing disciplined to take the win. Cooper Hammond was the team's second runner and placed 6th overall. CJ Tomomitsu placed in 7th, and senior WIll Hofmann ran his first race of the year good enough for 9th. Rounding out the top five finishers and placing 10th overall was Nate Holden with a time of 23:21.9. Jefferson won the meet with 22 points to Whitewater's 33.
The girls' race featured junior Sophie Walton leading the squad with a 6th place overall finish in her first event of the season. She finished the new racecourse in a time of 26:08.6. Gwen Truesdale also raced for the first time this season and was the team's second runner finishing with a time of 26:21.1, good enough for 7th. A nice pack of Whippets followed with Trinity Nickels in 9th, Lauren Buehler in 10th, and Danielle DePorter in 12th to round out the top five Whippets. The girls seemed to find each other a little easier today compared to their first race, and that was great to see. Racing with a teammate is a powerful aid. Caelyn Caputo dropped a nice 51 second chunk of time from her previous race to place 15th. Jefferson won the meet with a score of 15 versus Whitewater's 43.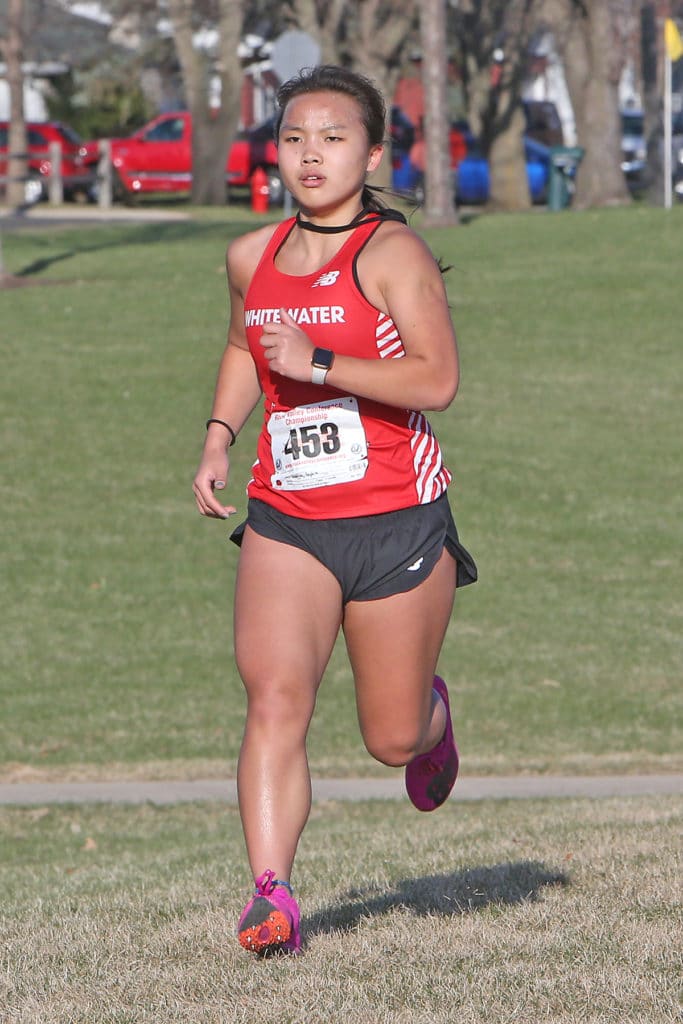 Next up for the Whippets is another home meet on Tuesday, April 6th, at Whitewater High School. The teams competing will be Clinton, Columbus, Edgerton, Evansville, McFarland, and Whitewater. Race times are 4:30 for boys and 5:15 for girls. The starting line is just outside the Auditorium, and the finish is on the hill along Walworth Avenue. Come out, and cheer for your Whippets!