By Lynn Binnie
Whitewater Banner volunteer staff
whitewaterbanner@gmail.com
Brain Freeze had so much business on September 12 that there were cars waiting on Milwaukee Street to get into the queue for the drive-thru. Messages such as the following on Facebook, as well as ads on several radio stations, brought out the crowd:
"Come and help us celebrate the opening of our drive thru on Saturday Sept. 12. Don't Forget about us this Saturday! We are opening at 9am and serving breakfast September 12! Enter for a chance to win $100 cash and a $100 Brain Freeze gift card! You can use this link to fill out your information and you will be automatically entered to for a chance to win! Or you can stop in to Brain Freeze and get a ticket. Raffle goes from 9am-6pm $1 burgers go all day! $1 BURGERS SATURDAY SEPT. 12. By RSVP'ing, a member of our team may contact you to participate in a compensated survey about your experience at our restaurant, to be completed during your visit."
Previously customers always placed their order at the drive-thru window, so regulars were surprised to discover that the menu was posted on the order board, and a voice came across the speaker asking for their order. Sure enough, the $1 burger special was shown, but there seemed to be a catch with most every item. The friendly order taker, actually an improv comedian from Chicago, informed customers of various extra charges that might range as high as $10: the $1 burger wasn't such a bargain after the addition of a spatula activation fee, and the egg burrito required an egg cracking charge. Customer Daniel Zielinski hadn't heard about the special promotion as he was driving by, but he saw the sign saying Brain Freeze was serving breakfast and pulled in since he knows "they have good food and I was hungry." Mr. Zielinski was representative of the reaction of most customers to the hidden fee: he questioned the $8 activation fee for cracking the egg for his burrito, and the voice responded, "the eggs don't crack themselves." Mr. Zielinski joked, "they do if you drop them on the floor," but he went along with the bizarre fee and placed his order. One of the wildest deals was the burger trade-in special, where you had to trade in an old burger.
As customers reached the drive-thru window, those who were middle-aged and beyond may have wondered if they were going to be on a new version that old TV show, Candid Camera. Some hadn't noticed the cameras, including Daniel, whose girlfriend asked if he hadn't seen them. "When a guy has food on his mind, that's all you care about is food…," he told the Banner. Assuming that "victims" had played along with the program, the first sixty-five customers were offered $100 for each occupant of the car in exchange for agreeing to the possibility of the video of their encounter being included in an advertisement, not to mention that their order was complimentary, including all the hidden fees!
Caitlyn Hilgen was invited to take advantage of the $1 burger special by a friend who works at Brain Freeze. She said she knew something was up because the order taker was joking around and making her laugh. She had ordered four burgers, cheese curds and a soda, and was told the $23 charge was understandable because the employee said she "had to milk the cow, get the cheese ready, make the beef and everything like that." Ms. Hilgen's only concern when she found out she was on camera was that she hadn't put her makeup on yet and her hair was in "a messy bun." Caitlyn told the Banner that "just laughing with the girl taking my order made my day." It was even better when she was given the $100 each for herself and for her one year old son, not to mention the free food. Speaking of the food, Caitlyn says she especially liked the burgers: "the beef isn't greasy, is flavorful, and the buns are really good — like my grandpa used to make." She added that the cheese curds are sweeter than usual and reminded her of the curds at the fair, and since she's a huge county fair fan and there haven't been any this year, that was a special treat.
Some weeks earlier, Pam Krause, who owns Brain Freeze together with her husband, Dick, had received a call offering a chance to participate in a sponsored promotion that sounded too good to be true. "When they first called, it was like, is this on the up and up, it seemed so unreal," Krause told the Banner. But the Krauses are known for their sense of humor; why else would they name their restaurant after a side effect that you don't want to get from ice cream, or name their eclectic store in the country The Fuzzy Pig, after a cat? Pam and Dick took the offer, which turned out to be made by an ad agency for a wireless company. They ordered in plenty of food, as they were told they needed to have enough for at least 65 orders, "and we had way more than that," Ms. Krause reported. Fortunately, she added, the production crew was very respectful and pitched right in to help serve the crowd.
U.S. Cellular prides itself on their "no hidden fees" plans. Some time ago they ran an ad that showed a man whose moving van had arrived at his new home, but the movers said they couldn't unload his belongings until he paid their activation fee. As Leo Burnett ad agency brainstormed for a new way of communicating U.S. Cellular's truth in pricing, they came up with the idea of hitting customers at a diner with crazy extra fees. Cristel Turner, senior director of brand strategy and advertising at U.S. Cellular, liked the idea, and the search for an appropriate diner was on. The hope was to find a diner in a smaller town, as it was surmised that people in a large city might be more resistant to accepting the extra charges. Sure enough, Ms. Turner, who was at Brain Freeze for the project, said that most of the customers played along, often with appropriate objections, as long as the extra charges didn't reach over $10. That seemed to be the limit. Although the concept originally entailed shooting inside a diner, the pandemic forced the change to a drive-thru plan, and something like 30 towns were considered. "We vetted many different cities and eventually chose Whitewater and Brain Freeze because of the classic diner aesthetic in the small but charming town," said Turner. Pam Krause said there was one more thing in her favor: the caller asked if she was a U.S. Cellular customer, and when she said she was, they thought it was likely her business would be selected.
The commercial was produced for Leo Burnett by director Kai Sehr. It's expected to begin airing in early 2021 throughout U.S. Cellular's market areas, and the Banner has been assured that we will be provided with a link to the commercial when it's being shown. U.S. Cellular is the fourth-largest full-service wireless carrier in the United States, providing national network coverage.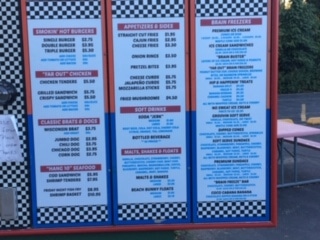 In the end, the extraordinarily busy day certainly provided excellent exposure for Brain Freeze, and they even got a menu on their order board together with a functional speaker. It seems that the speaker quit working, though, almost as soon as the promotion ended. Surely it's not because they forgot to pay the activation fee.
Updated on 9/22 at 1:50 p.m. to add the missing photos, change photo credits to U.S. Cellular, and change ad agency to Leo Burnett.