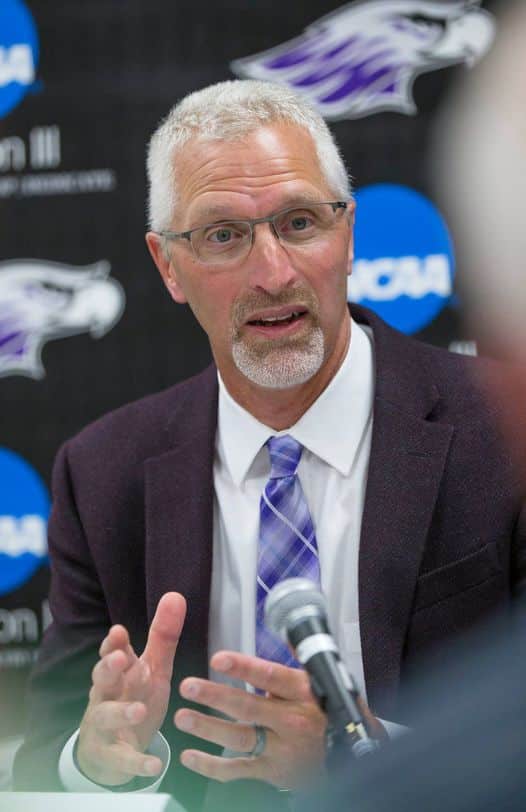 By Angela Kelm
Assistant Athletic Director for Sports Information
University of Wisconsin-Whitewater head football coach Kevin Bullis has announced his retirement after fifteen seasons with the Warhawks including the last eight at the helm. Assistant head coach and defensive coordinator Jace Rindahl has been named the interim head coach.
"It has been an honor and pleasure coaching and teaching in the Warhawk football program and UW-Whitewater," said Coach Bullis. "I will greatly miss the students and staff. Kathy and I have lived truly amazing coaching lives and it is time for us to live life."
Coach Bullis joined the Warhawk football staff in 2008 as an assistant before taking over as head coach in January of 2015. He is just the fourth head coach in the last 60 years and 21st head coach in program history.
Bullis led the program through the cancellation of the 2020 season due to the COVID-19 pandemic and the return to action in 2021.
In seven competition seasons as the head coach, Bullis has compiled an overall record of 78-13 (.857) including a 45-4 (.918) mark in the Wisconsin Intercollegiate Athletic Conference. His overall win percentage is second only to his predecessor, Lance Leipold, in the history of head coaches in the WIAC that have led programs for more than two seasons. Bullis ranks third among active coaches with at least five seasons in the NCAA, any division, for win percentage.
UW-Whitewater participated in the NCAA Division III playoff six of seven seasons under Bullis and claimed at least a share of the WIAC title five times including the program's 39th conference championship this season. Bullis led the Warhawks to a national runner-up finish in 2019 and semifinal appearances in 2015, 2018 and 2021. In total, since Bullis joined the staff, UW-Whitewater reached the Stagg Bowl, the NCAA Division III championship game, seven times and has won eleven league titles.  
He has coached UW-Whitewater players to more than 35 All-America honors, six WIAC Player of the Year accolades and nearly 120 all-conference honors. Bullis was selected the WIAC Coach of the Year in 2016, 2018 and 2021. He added d3football.com Region 6 Coach of the Year honors in 2021.
Adopting the Division III philosophy of valuing the balance of academics and athletics, Bullis coached players to six Academic All-America honors including the 2019 College Sports Information Directors of America All-American of the Year in 2019, numerous Academic All-District accolades and a multitude of conference scholar-athletes. Additionally, the Warhawk football team has logged more than 1,000 hours of community service working on initiatives with Special Olympics of Wisconsin, Fairhaven Senior Community and the Whitewater Food Pantry under Bullis' leadership.
"Kevin is a great coach and an even better person," said Athletic Director Ryan Callahan. "The life lessons he taught his student-athletes, coaches and colleagues will continue to be felt for years to come. I'm forever grateful for my time with Coach Bullis and excited for him and his family on his retirement."
A national search for the next Warhawk football head coach will begin early in 2023.
Editor's note: The photos are from the UW-Whitewater Warhawk Football Facebook page.