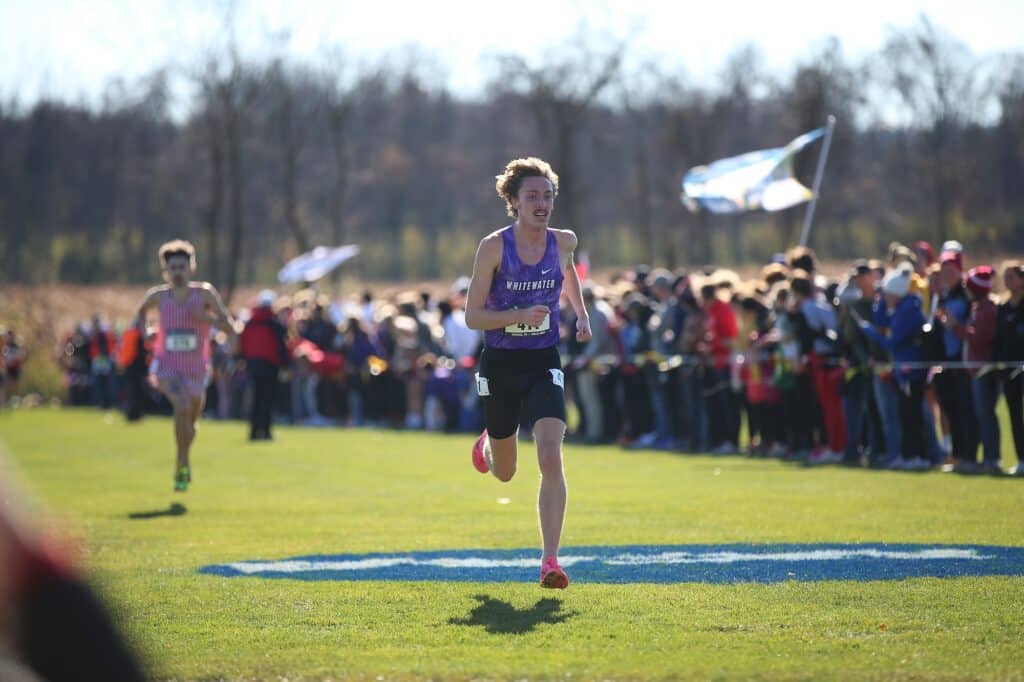 By Angela Kelm
Assistant Athletic Director for Sports Information
Newville, Penn. – The University of Wisconsin-Whitewater men's cross country team finished tenth at the 2023 NCAA Division III Championships Saturday led by a national runner-up performance by Christian Patzka (Black Earth, Wis./Wisconsin Heights). The championships were held in Newville, Pennsylvania on the most difficult course the Warhawks have been on this season. 

The Warhawks have now finished among the top 10 as a team at the NCAA championship three consecutive seasons and six times overall in program history. A total of 32 team competed in the national championship meet. 

Patzka finished second for the second consecutive season crossing the line in 24:20.7 on the tough course. He is now a two-time All-American after finishing second a year ago and 23rd in 2021.
Gunner Schlender (Brillion, Wis./Brillion) picked up his third All-America honor with a time of 24:41.5 to finish 11th – his best finish in three career national meets.
The runner-up and eleventh-place finishes are the best for the Warhawks' top two runners at the championship in program history. The previous best was Jeremy Burks (7th) and Pat Frascone (15th) in 2000.
Dan Anderson (Eau Claire, Wis./McDonell) finished among the top half of the nearly-300 runner field in the men's race. His time of 25:34.6 was 78th – his best career finish at nationals. Chris Allen (Downers Grove, Ill./North) posted a time of 25:54.2 for 131st followed by Craig Hundley's (Grayslake, IL/North) 26:07.4 for 163rd.Justin Krause (Ixonia, Wis./Pewaukee) crossed the line in 26:54.4 with Nick Hardin (Greenfield, Wis./Whitnall) wrapping up the Warhawk contingent with a clocking of 26:42.2. Hardin had a valiant performance running over four miles with just one shoe after his was pulled off early in the race.