Dwight Watson begins his tenure today as the 17th chancellor of the University of Wisconsin-Whitewater. The UW System Board of Regents named Watson to lead the university on May 23.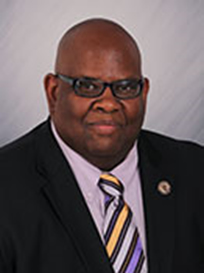 "For more than 150 years, dedicated people at the University of Wisconsin-Whitewater have been transforming the lives of students and positively impacting the region we serve. We have much to be proud of as we begin a new academic year. I am humbled and honored to serve as chancellor, and I am looking forward to continuing to move the university forward," Watson said.
"I want to assure members of the Warhawk family that I will listen, learn and lead. I plan to listen to students, faculty, staff and the community. I plan to learn all I can about UW-Whitewater and the region. And I will then work collaboratively to help lead the university to greater achievements."
Watson will hold listening sessions at the Whitewater and Rock County campuses, and in the communities of Whitewater and Janesville. "I want to hear from as many people as possible, and I especially want to hear from those people whose voices aren't always heard," Watson said.
"This is an exciting time of year for the university. It won't be long before our students and faculty return for the fall semester, and are engaged in our vibrant campuses. I am energized by the activity of the students, faculty and staff. The enthusiasm of the Warhawk family fuels our commitment to our goals," he said.
Watson served since 2015 as the provost and vice president of academic and student affairs at Southwest Minnesota State University, an institution serving about 7,300 students as part of the Minnesota State Colleges and Universities System. In this role, he focused on student achievement and removing barriers to success. He designed and implemented policies and practices pertaining to diversity, inclusion, access, and equity. Watson helped build collaborative relationships with two-year community and technical colleges, including creating transfer pathways and place-bound 2+2 programs. Working collaboratively with shared governance, he has overseen successful accreditation, assessment, and strategic planning. He has fundraising and government relations expertise.
Previously, Watson served as dean of the College of Education at the University of Northern Iowa (2010-2015); associate dean of the teacher education program at the University of Wisconsin–Eau Claire (2007-2010); and chair of the Department of Education at Hamline University (2002-2007). As a professor, his primary teaching focus was literacy development for young and adolescent readers. His scholarship has focused on applied research connected to the literacy and language acquisition of students of color and urban learners. Currently, his research is on leadership development, faculty recruitment and hiring practices, and teacher pathways to diversify the workforce. His professional experience also includes pre-K-12 teaching in his home state of South Carolina as well as North Carolina and Minnesota.