Editor's Note: The following was provided by the University of Wisconsin-Whitewater.
University of Wisconsin-Whitewater senior Nicholas Swiatowy is preparing for the new school year by watching a lot of television — specifically, Japanese variety shows.
For this Warhawk, that's tantamount to studying. He's soaking up the Japanese language, listening for new words, phrases, idioms and intonation.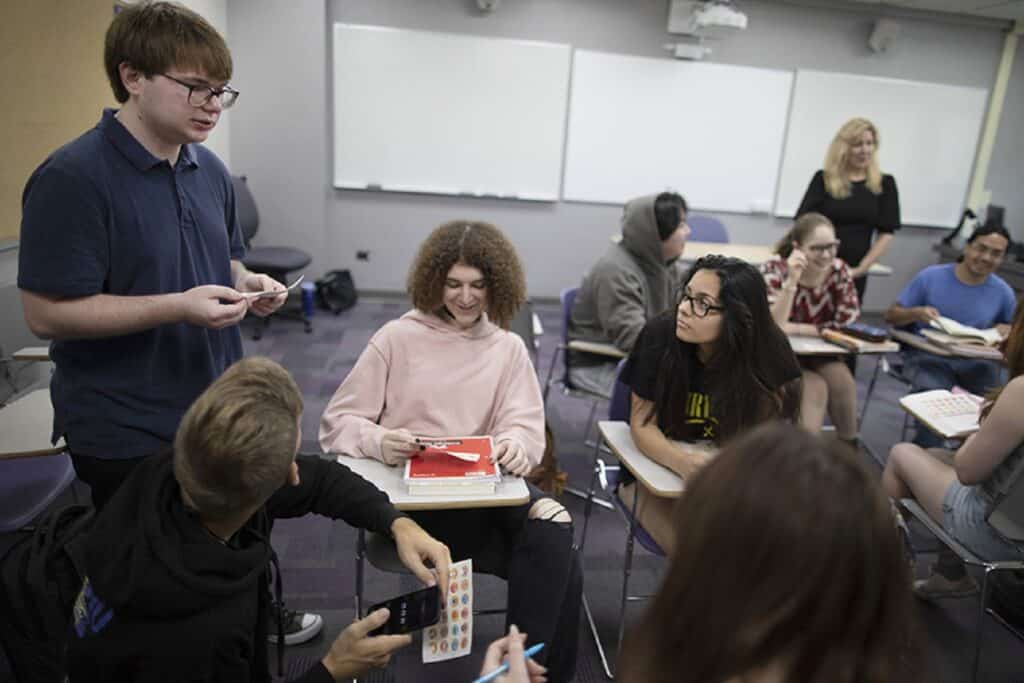 The Elkhorn native will spend the 2023-24 academic year at Hokkaido University in Sapporo, Japan, on a merit-based, fully paid Japanese studies scholarship and stipend, a prestigious award presented by Japan's Ministry of Education, Culture, Sports, Science, and Technology. To earn the award, Swiatowy had to perform well in language tests and face an interview at the Japanese consulate in Chicago.
"I couldn't be more honored to be doing this. That I would be considered for something like this is wild," Swiatowy says.
The Japanese government scholarship program began in 1954 and has benefitted more than 100,000 students in more than 160 countries. Winning the scholarship is a particularly remarkable achievement because until Swiatowy transferred to UW-Whitewater in the spring semester of 2022, his grasp of Japanese was completely self-taught. Learning the language's more than 2,000 characters was his passion.
"I got out of high school and I needed something to do. Japanese is supposed to be the hardest language for native English speakers to learn," he says. "I'm probably up to about 1,400 characters now."
Swiatowy's first contact with the language came from playing Japanese video games during his youth.
"It was fun, and I like the way the language sounds."
Mentorship matters
Swiatowy, a Japanese studies and political science major, is following in the footsteps of his Japanese instructor and mentor at UW-Whitewater, Melanie Czarnecki — who earned the same scholarship in 1996-97, when she was an undergraduate student at UW-Madison.
"I'm as excited for him as I was for myself," Czarnecki said.
The program, which involves full immersion in the Japanese language and culture, selects students from around the world.
"Not only is Nicholas going to grow as an individual human being, he is going to be such a confident speaker of the Japanese language and, I hope, on Japanese cultural topics. He's also going to study with people from all walks of life," said Czarnecki. "They will live together, study together, go on field trips together. He will learn about other countries' cultures, too."
When Swiatowy enrolled at UW-Whitewater, he asked Czarnecki for permission to take a placement test to see which of her Japanese language classes would be an appropriate fit.
"I asked him where he had studied, which textbooks he had used and which classes he had taken," Czarnecki says.
The answer: none of the above.
"I never expected he would be able to place at the highest level," Czarnecki says. "I was so impressed that someone as young as he had that kind of commitment."
In fact, Swiatowy was skilled enough to tutor other students and has helped run Czarnecki's weekly chat tables, or conversation groups.
"He has helped a lot of students, including one student who is vision-impaired. Nicholas was eager to help him outside of the classroom, and to make sure he was getting the support he needed," Czarnecki says.
Looking ahead
Swiatowy is eager to speak and read Japanese every day. Improving his conversational skills is his biggest priority, even before he leaves for Japan.
"This has been the big thing for me for the last four years, and this scholarship is the culmination of all of that," Swiatowy says.
He dreams of serving as a diplomat in the future. "If I can do something with Japanese, I'd absolutely love to."
Swiatowy credits Czarnecki for accepting him as a student, encouraging him to apply for the scholarship and helping him through the interview process.
"Melanie is, hands down, the best teacher I've ever had in my life – 1,000%," Swiatowy says. "She has made a huge change in the trajectory of my life."
Swiatowy looks forward to his time at Hokkaido University. Established in 1876, it has 18,000 students – compared to about 11,500 at UW-Whitewater – and 3,900 faculty and staff members. The university focuses on research covering a variety of global issues, including vaccines, artificial intelligence, food innovation and environmental science. The Times Higher Education Impact Rankings — which assess nearly 1,600 universities worldwide on meeting the United Nations' Sustainable Development goals — lists Hokkaido University No. 22 globally and No. 1 in Japan.
The campus is in Sapporo, which is similar to Wisconsin in its climate — and in at least one other aspect according to Swiatowy.
"It's famous for beer."