Editor's note: The following information was provided by UW- Whitewater.
The University of Wisconsin-Whitewater welcomed its largest freshman class in four years, with 1,873 new freshmen enrolled for the fall 2021 semester. Total enrollment at the university is 11,447, with 10,804 students at the Whitewater campus and 643 students at the Rock County campus. The figures represent preliminary enrollment numbers taken on the 10th day of instruction. Final figures are expected to be available later in the fall semester.
"We're elated to see students once again engaged in learning in the classrooms and laboratories, and competing on the athletic fields. We know how important in-person instruction is to our students and 83% of our undergraduate classes offer them that experience. There is a wonderful energy permeating the campus this semester with many athletic and social events," said Jim Henderson, interim chancellor. "While our overall enrollment is down slightly, the larger freshman class and other recruitment successes point to a positive trajectory for our enrollment moving forward."
The School of Graduate Studies is seeing its largest class in history with 1,683 students pursuing master's and doctoral degrees and certificates, an increase of 116 students from last year.
With the fall 2021 semester underway, UW-Whitewater is already accepting and processing applications for the fall 2022 semester. Students applying for undergraduate admission can do so at no cost, and ACT/SAT test scores continue to be optional as part of the university's comprehensive review process. The admission application also serves as a student's application for many new student scholarship opportunities. Daily campus tours are available at the Whitewater campus and weekly tours at the Rock County campus.
New this year, UW-Whitewater is part of a $1 million initiative to help guide high school students in preparing for, applying to, and enrolling in one of UW System's 13 universities. UW-Whitewater pre-college coaches will start this fall semester and work in Beloit Memorial and Turner high schools, Janesville Craig and Parker high schools, and in Badger (Lake Geneva), Bigfoot (Walworth), Delavan-Darien, and Elkhorn high schools.
"Our counselors are excited to engage earlier with students as they explore their college options across the UW System and find the appropriate education pathways that align with their career interests," said Matt Aschenbrener, associate vice chancellor for enrollment and retention. "The focus of the pre-college pipeline initiative is to work with regional high school partners to identify and prepare under-represented and underserved students to help them be successful at the university and beyond. We are fortunate to be working with 8 of the 25 high schools involved with this project." 
Banner note: The following table is copied from https://www.uww.edu/documents/ir/University%20Data/Enrollment/Enrollment%20Summary.pdf
Below that table the Banner is providing a comparison of this year's enrollment with last year's.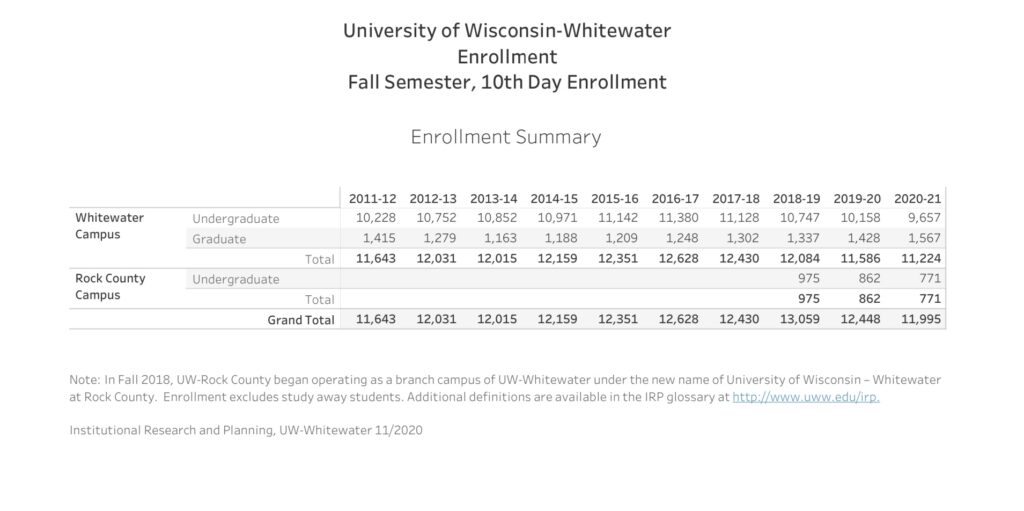 | | | |
| --- | --- | --- |
| | 2020-21 | 2021-22 |
| Whitewater Campus Undergraduate | 9657 | 9121 |
| Graduate | 1567 | 1683 |
| Total Whitewater Campus | 11224 | 10804 |
| Rock County Campus | 771 | 643 |
| Grand Total | 11995 | 11447 |
Banner note: The following information was provided by the UW System. UW-W's reported enrollment dropped by over 4%.
UW System enrollment drops 1% for the fall semester, according to initial estimates
MADISON, Wis.—The University of Wisconsin System today released an initial fall 2021 enrollment estimate of 163,708 students, an estimated 1 percent decrease compared to fall 2020 based on initial first-day figures.
UW System typically discloses only final fall enrollment figures, and typically later in the semester, but is again announcing initial estimates based on first-day figures because of interest in the impact of the COVID-19 pandemic.
System President Tommy Thompson noted freshman and new transfer registrations have increased by 1,316, or 4 percent, including at eight of 13 university main campuses, according to the estimates, but dropped by 3,305 among other undergraduates, or 4 percent.
"These preliminary estimates reflect a number of factors," Thompson said. "It's clear that students continue to view the UW System as a tremendous value and their ticket to a brighter future. New freshman and transfer students are up, thanks to our added recruitment tools coupled with the extraordinary work done by admissions and registrations staff."
Overall enrollment increased at three universities and dropped at 10, according to the estimates. UW-Madison, UW-Green Bay, and UW-Superior show increases, according to the estimates.
"The last 18 months have been incredibly challenging, not only for our UW schools, but also at colleges of all types throughout the nation," stated Thompson. "With plentiful jobs and COVID-19 creating challenges, retaining students has been especially difficult for all of higher education."
The final enrollment figures to be made public later this year may still differ from the first-day enrollment estimates released today.