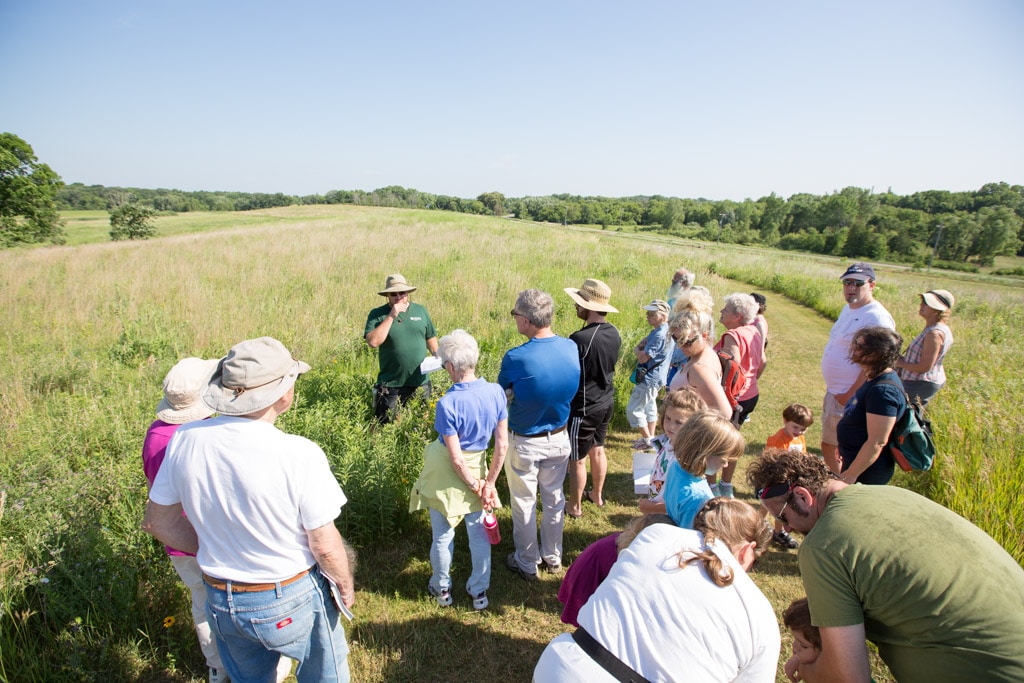 Note: The deadline for registration for the prairie tours on July 8 & 10 is Thursday, July 1 at noon. The deadline for the garden tours is the Monday prior to the tour.
2021 Prairie and Landscape Tours
Looking for a safe and active way to enjoy the outdoors? Want to learn more about native and sustainable landscapes and ways to incorporate the practices in your gardening? Join us for free guided tours of the UW-Whitewater prairie and campus gardens! UW-Whitewater Continuing Education is pleased to offer tours of the prairie and nature preserve and campus landscapes and gardens throughout the season. Wes Enterline, UW-Whitewater's sustainability director, will lead the tours.
All tours are free with registration and open to the public. These are walking tours with low activity levels and are held rain or shine, unless severe weather warnings are issued. Tours are limited to 8 participants. Walk-up registrations are not accepted. Tours may be available virtually, and information on how to access virtual tour will be provided in advance.
Prairie Tours: Plants and Plans for the UW-Whitewater Nature Preserve
Over 100 acres on the campus's northwestern border have been restored and actively managed as a native prairie and nature preserve. Learn more about the diverse array of native plant species in the prairie and savanna ecosystems and observe them during this first peak of the growing season.
Plants and Plans for the UW-Whitewater Nature Preserve: Thursday, July 8, 6:00 – 7:00 pm
Plants and Plans for the UW-Whitewater Nature Preserve: Saturday, July 10, 9:00 – 10:00 am
Campus Core Garden Tours:
Explore the many gardens and natural spaces tucked between our campus buildings. In addition to providing information about the annuals, perennials, shrubs and trees in our landscapes around campus and the sustainability practices we use, this year will feature additional details about campus history on all three tours too!
History of the Whitewater Normal School Grounds: Thursday, August 5, 6:00 – 7:30 pm
This tour will visit the Salisbury and Chopp Arboretums, Memory Garden, Hyer Hall, Halverson Log Cabin, and Little Red Schoolhouse, which are all on the original grounds of the Normal School. This year we will provide an exclusive sneak peek inside the Log Cabin and Schoolhouse!
Gardens and Trees of the South Campus Core: Thursday, August 12, 6:00 – 7:30 pm
This tour will focus on trees and landscape beds near Andersen Library, Heide Hall, University Center, the South Wyman Mall, Hyer Hall, Salisbury Arboretum, Roseman Building, and Minnieska Springs.
Gardens and Trees of the North Campus Core: Thursday, August 19, 6:00 – 7:30 pm
The final tour of the summer will explore the campus vegetable garden as well as trees and landscape beds near Moraine Hall, Hyland Hall, Upham Hall, Winther Hall, Minnieska Springs, and White Hall.
Contact Continuing Education at 262-472-1100 with questions.