By Henry Redman
Wisconsin Examiner
July 13, 2021
The NCAA's new rules regarding college athletes' ability to profit off their name, image and likeness (NIL) has knocked down more than a century of tradition and understanding about how college sports work, with the whole enterprise stumbling through the dark to figure out what comes next.
Days before the new rules were instituted on July 1, UW-Madison quarterback Graham Mertz tweeted a video out to his more than 25,000 followers teasing a new personal brand. Just more than a week later, his Twitter account has been mostly promoting his new online apparel store selling Graham Mertz-branded t-shirts and baby onesies.
Mertz, the starting quarterback at one of the biggest football schools in the country, is in the top tier of earning ability in this new era. Estimates say that football and basketball players at powerhouse schools could bring in hundreds of thousands, or even millions of dollars through endorsements and other deals.
The money isn't even likely to be limited to the biggest, most popular sports. Olivia Dunne, a gymnast at Louisiana State University, is projected to be one of the highest earning college athletes because of her 1.1 million followers on Instagram and 3.9 million more on TikTok. 
But the rules haven't just changed for starting quarterbacks at schools in power five conferences or gymnasts-turned-influencers. The new NIL rules apply to all three divisions of NCAA sports, meaning athletes at small schools in small towns across the country will need to figure out how this works for them.
The UW-Whitewater football team is a powerhouse. The Division III Warhawks have won six national championships and 36 conference championships. The team has sent a handful of players to the NFL and holds a huge amount of sway locally — tailgates outside Perkins Stadium are a big deal and nearly every bar in the tri-county area where the city of Whitewater is situated has a purple Warhawk flag hanging on the wall.
The players on the Warhawks roster, are still figuring out how a region's love for its small-town college football power can be translated into newly allowed perks.
One week after the new rules went into effect, Whitewater business owners were skeptical — either taking a wait-and-see approach, completely unaware of the change or dismissing the idea out of hand.
"I've not heard any businesses express an interest — yet," Whitewater Chamber of Commerce Director Kellie Carper says.
Kevin Chung, a professor at the UW-Madison School of Business with an expertise in celebrity endorsements, says it might just take one Whitewater area business to take the leap for others to follow.
"I think it'll be more word of mouth," Chung says. "But once one local business gets on board and people see there's more foot traffic or more people talking about the business, it might catch on."
The prospect is intriguing to some business owners. Sean Stemper, owner of Rosa's Pizza on Main Street, says he would just need to figure out the specifics of a deal with an athlete.
"Any business is going to look at it," he says.
Other, larger businesses that seem more likely to have marketing budgets hadn't even considered the idea. Management at neither of the two car dealerships in town had thought about working with football players — though they said if it made financial sense they'd do it.
"I'm not ruling it in, not ruling it out," Kurt Ketterhagen, owner of Ketterhagen Motors, says.
Some businesses that would seem like attractive options for endorsements from young athletes were completely against the idea. The tattoo parlor in town immediately dismissed the possibility of working with football players — even though college football players and tattoo shops have a long history. In 2010 five Ohio State football players were suspended for trading merchandise for free tattoos — a deal that would be allowed under today's rules.
Cesar Mendoza, owner of local barbershop Underground Cuts Local, says he already cuts the hair of a lot of the football players but isn't sure if he'd want to do an endorsement deal with them.
For one, he says it might be awkward. If he's cutting the hair of half the football team and picks one or two to pay for a promotion, will the other guys get jealous?
Plus, is paying a player — or even giving free haircuts in exchange for promotions — even going to boost his business? But, he says, he sees there are pros and cons to the new rules, especially for the biggest players.
"As a small town, it's harder," Mendoza says. "There's a lot of ways to look at it, you just have to figure it out."
But Mendoza does see a future where Whitewater football players are able to get some perks or make some cash from local businesses. Maybe they wear a local business' shirt around campus or post on social media.
Even in Whitewater, some of the players have moderately sized Instagram followings. Alex Peete, a running back and 2018 All-American, has nearly 2,100 followers. Nate Custer, the team's punter, has more than 1,200. So does Derek Kumerow, a senior wide receiver and younger brother of NFL player (and former Warhawk) Jake Kumerow.
Former Warhawk offensive lineman Quinn Meinerz was drafted by the Denver Broncos in the third round of this year's NFL draft. Now he has nearly 37,000 followers.
Chung, who has researched the effect a Tiger Woods endorsement has on the sale of Nike golf balls, says there will be opportunities out there, but it will fall to the players to build their followings and then go out to pitch themselves to local businesses.
"I think it's going to be on the shoulders of the athletes," Chung says. "They have to do some marketing of themselves — perhaps even using social media to showcase they have this reach to these local businesses and it may actually work. I think there will be opportunities to command some endorsement deals."
The UW-Whitewater Athletics department did not respond to a request for interviews with administrators or athletes.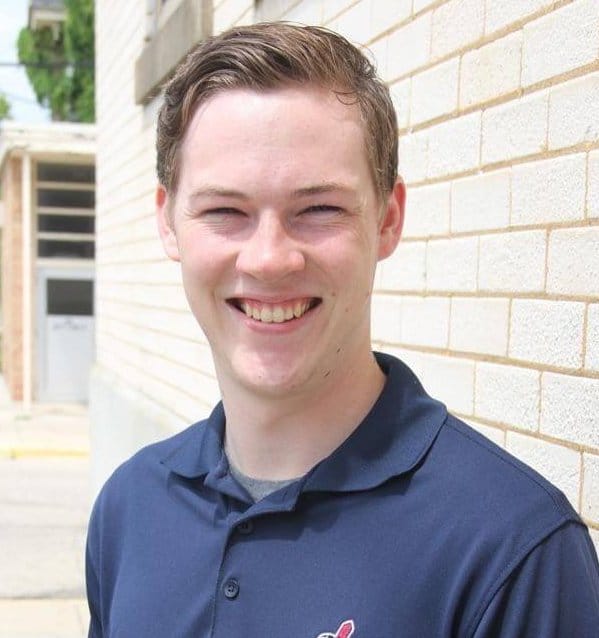 Henry Redman Henry Redman is a staff reporter for the Wisconsin Examiner who focuses on covering Wisconsin's towns and rural areas. He previously covered crime and courts at the Daily Jefferson County Union. A lifelong Midwesterner, he was born in Cleveland, Ohio and graduated from Loyola University Chicago with a degree in journalism in May 2019.
Our thanks to the Wisconsin Examiner for permission, granted under Creative Commons license CC BY-NC-ND 4.0, to reprint this story and the photo on the homepage.