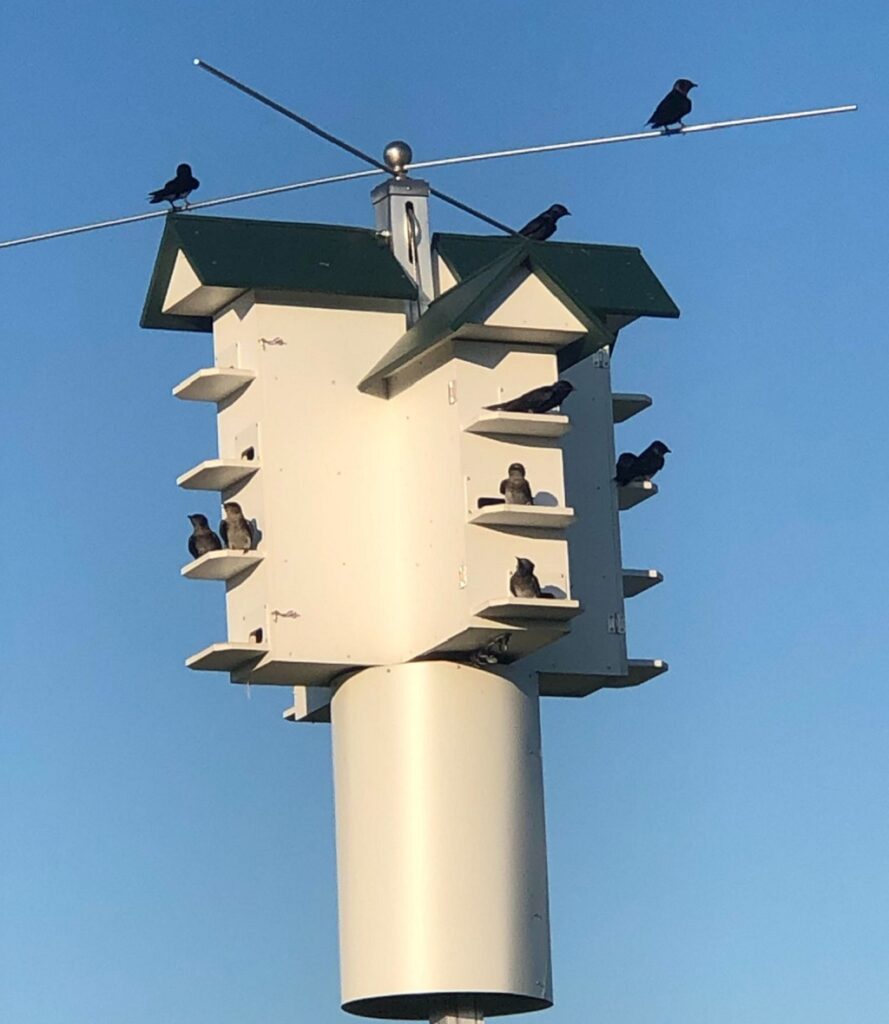 In the fall of 2019, the Whitewater Urban Forestry Commission (UFC) received a contribution from the late Jerry Schoen, a longtime member of the Commission, to erect its first Purple Martin House overlooking Trippe Lake in Minneiska Park. This house was dedicated this spring to the Jerry and Bunny Schoen Trust. The house was placed along the walking trail at the park and, in its first year, attracted 2 pairs of Purple Martins. These two pairs successfully raised two clutches of baby Martins in 2020, which is unusual for the first year.
This summer, as a result of contributions, a second martin house was erected in the Clay Street Nature Preserve on the city's east side. It also attracted a nest of Martins its first year, while the first house hosts five nests this year! A total of 25 eggs are now ready to hatch, which triples last year's brood. Purple Martins love to be around people and eat many insects as they swoop around their homes. The birds have hung a welcome sign at their two sites inviting the public to visit them!
Whitewater is a designated Wisconsin Bird City. The Urban Forestry Commission raised money to erect a Swift Tower in Cravath Lake Park a few years ago that now serves as a nesting site for Chimney Swifts who've lost chimneys as building designs have changed over the years. Our focus is to create sustainable habitat for birds that need them and we'd like to erect more Martin houses in the city. The UFC is requesting contributions in order to hopefully expand to six houses throughout the city. If you would like to support this project of the Urban Forestry Commission, you can contribute by sending checks in any amount, made out to the City of Whitewater Martin Project to be delivered or mailed (P.O. Box 178) to the Whitewater City Hall, attention Finance Dept. Put Purple Martin Project in the memo line of your check, and when we have raised enough for another house, we will purchase and erect our third house at Starin Park in the soon to be announced Arboretum At Starin Park!