Thursday night, May 26, the Whitewater Track and Field Team traveled across the state to Prairie Du Chien to compete in the WIAA Division 2 Sectional Meet. The long bus ride didn't hinder the Whippets on the track, as it was a banner day across the board for Whitewater athletes. With opportunities to qualify for the State Meet on the line, the Whippets supported one another to some incredible finishes.
The meet was kicked off by a stellar State-qualifying performance from Maddie Buehler in the 100-Meter Dash, who cruised to a 3rd place finish in a time of 12.41. That time catapulted her to 2nd place all-time in Whitewater history, as she knocked 3 tenths off her previous personal best. Buehler then teamed up with Olive Coburn, Emma Weigel, and Kindyl Kilar in the 4×100 and 4×200 relays, which both placed second. Those relays sprinted across the finish line in times of 50.95 and 1:47.46 respectively, so they too will be running in La Crosse next weekend. Kindyl Kilar capped off a phenomenal day for the short sprinters, as she blazed to a 2nd place finish in the 200-Meter Dash final in 26.27. Her time of 26.13 in the preliminary round solidified her place as the 3rd fastest in program history. In the field events, Evie Troxel cleared two PR bars in the Pole Vault, earning her a 3rd place finish and a chance to compete in La Crosse next weekend. Evie vaulted over 9'6" with ease, and then on her third attempt made it over a personal best height of 9'9". Her mark vaulted her to a tie for the 8th highest vault in program history. Other competitors included Grace Villarreal and Calli Grosinske in the 400-Meter Dash, and they finished 14th and 15th in a loaded field. Carley Boudreau capped off an incredible freshman season finishing 15th in the 300-Meter Hurdles. She was one of five freshmen competing in the event. The Girls' 4×400 Relay of Grosinske, Villarreal, Nola Coburn, and Gwen Truesdale finished in 14th place, although 2 seconds ahead of their Sectional-qualifying seed time, in 4:33.40. Izzy Dieter went up against a loaded field in the Discus Throw, as she finished in 12th place with a toss of 92'11", but vaulted to a personal best in the Pole Vault, finishing 10th, with a height of 8'6". Gwen Truesdale also competed in the High Jump, but would have had to clear a personal best bar for opening height.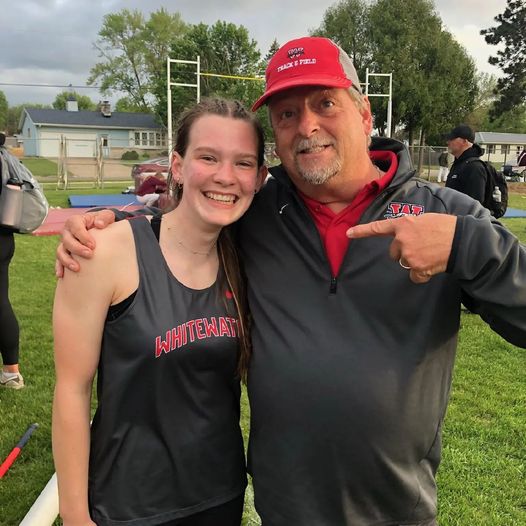 On the boys' side, Ethan Dugan ran a gutsy race in the 400-Meter Dash. In the final 100 meters, Ethan kicked past several competitors to cross the finish line in 4th place, marking the boys' first state qualifier of the evening. His time of 51.93 was a personal best. Jack Hefty competed in the 3200-Meter Run, and stuck with the pack for the first mile and a half. Heading into the final 800 meters, a strong runner from Sugar River started to separate himself from the rest of the field. Jack began his kick with a lap and a half left and never looked back, separating himself from the 3rd and 4th place runners. Hefty, a freshman, crossed the line in 2nd place, and his time of 9:47.92 moved him up to #7 all-time in Whitewater history, while simultaneously securing a spot to run in La Crosse. Other competitors included senior Connor Sharlow in the 400-Meter Dash, whose time of 53.72 placed 12th. The boys' 4×100 Relay of Traysen Thomason, Quincy Boudreau, Nate Black, and Noah Coleman finished in 13th place. This relay team consists of three sophomores and a freshman, so the team is poised to return faster in 2023. In the Pole Vault, CJ Tomomitsu placed 7th, tying his season's best of 12'0". In the throws, Connor Raupp and Jake Kuhlow competed in the Discus. Jake placed 10th with a toss of 122'11, and Connor had a tough time keeping the disc within the sector, and was unable to register a mark. Jake Kuhlow also competed in the Shot Put, and threw a mark of 39'5" to place 15th. Both athletes will return in 2023 after breakout seasons in 2022.
Overall, the Whippets will be taking a total of five girls in three individual events and two relays up to La Crosse, while the boys notched two state qualifying individual events. Those athletes will travel to La Crosse to compete on Friday and Saturday against the best Track & Field athletes in the state of Wisconsin.
Final results: http://milesplit.live/meets/485694
Article Submitted by Matt Green
Whitewater High School Head Track Coach
mgreen@wwusd.org
Photos Courtesy of Coach Green and Bob Mischka