The Whitewater Landmarks Commission recently designated the Territorial Oak Site at the northwest corner of Main and Franklin Streets as a Local Landmark.  The site includes a Bur Oak tree dating to 1800 or before that was used as the fixed point from which U.S. federal land surveyors platted the village of Whitewater in 1836.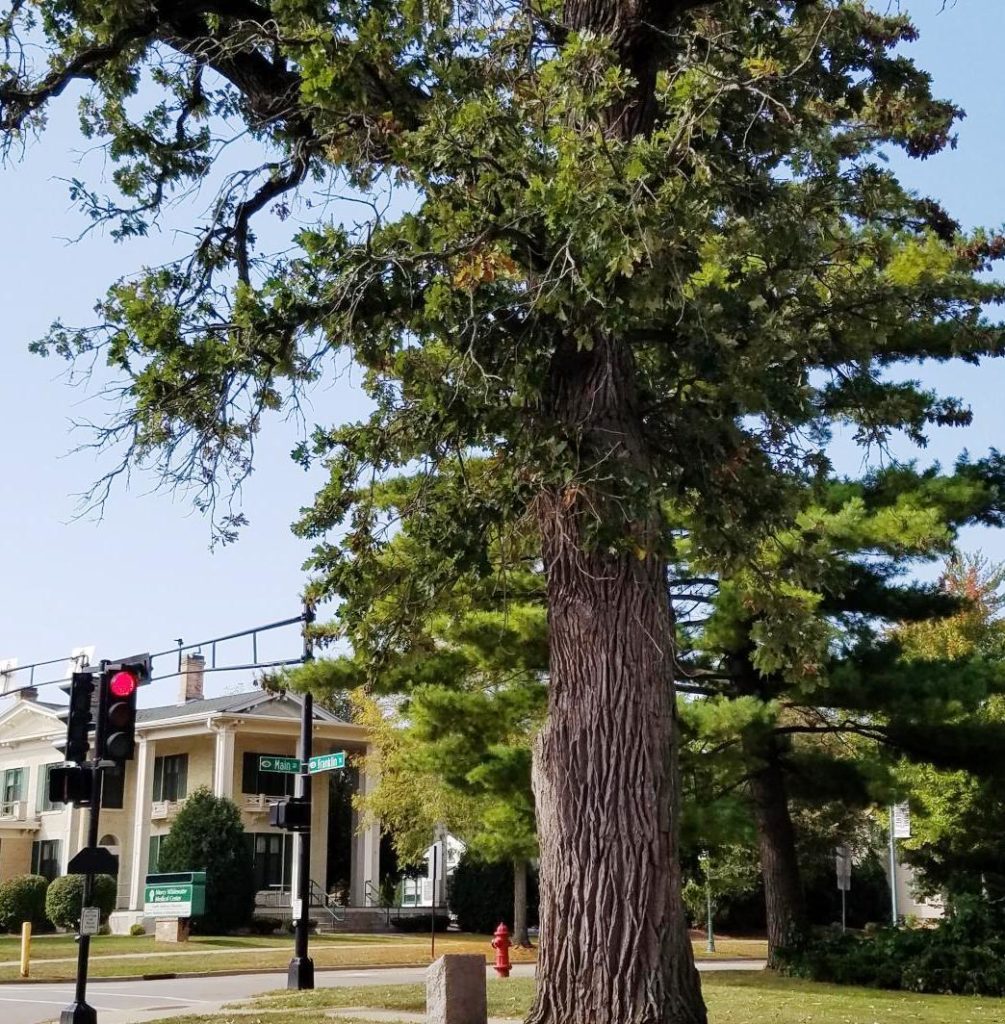 Known as a survey or witness tree, it marks the site of Whitewater's "point of beginning".  In the April 30, 1987 edition of the Whitewater Register which commemorated Whitewater's founding, a sesquicentennial celebration was held at the oak tree.  The newspaper reported that "when state surveyors made their measurements in Whitewater, the natural objects they used as a reference point were two bur oak trees at what is now the corner of Main and Franklin Streets.  A 12-inch circumference Territorial Oak was cut down in 1923 and a marble slab marker was erected there.  The second Territorial Bur Oak, which exists today, reportedly measured a circumference of 16- inches in the 1830's and has grown to 11 feet in circumference today.  A marker and plaque located on the terrace with information about the Territorial Oak, was donated by the local volunteer fire department in 1962.
The tree has split in two and while it remains massive, one of the leaders had to be removed for the tree's stability and safety for passersby on the sidewalk.  Currently, the tree is in decline and while it still produces leaves and acorns, the upper branches of the tree remain bare.  Local elementary school students have harvested the acorns and planted them producing young Bur Oak saplings that are the "grandchildren" of the Territorial Oak. 
The tree has been adopted as a symbol of the city.  It has been featured on the official city stationery and appears on the Whitewater mural located at Whitewater and Center Streets.  The Whitewater city  council nominated the Territorial Oak as an historic State of Wisconsin tree on February 1, 1981 adding to its significance.
The nomination of this site was prepared by local historian, Kori Oberle.  The Whitewater Landmarks Commission encourages its citizenry to consider nominating additional historic sites, buildings and residences for consideration as local landmarks.  The designation of the Territorial Oak Site as a Local Landmark is the 25th Local Landmark to be recognized by the city of Whitewater.