The Whitewater Girls' Swim Team competed at home against Burlington Co-Op on Tuesday, September 12. The night was filled with lots of season and lifetime PRs.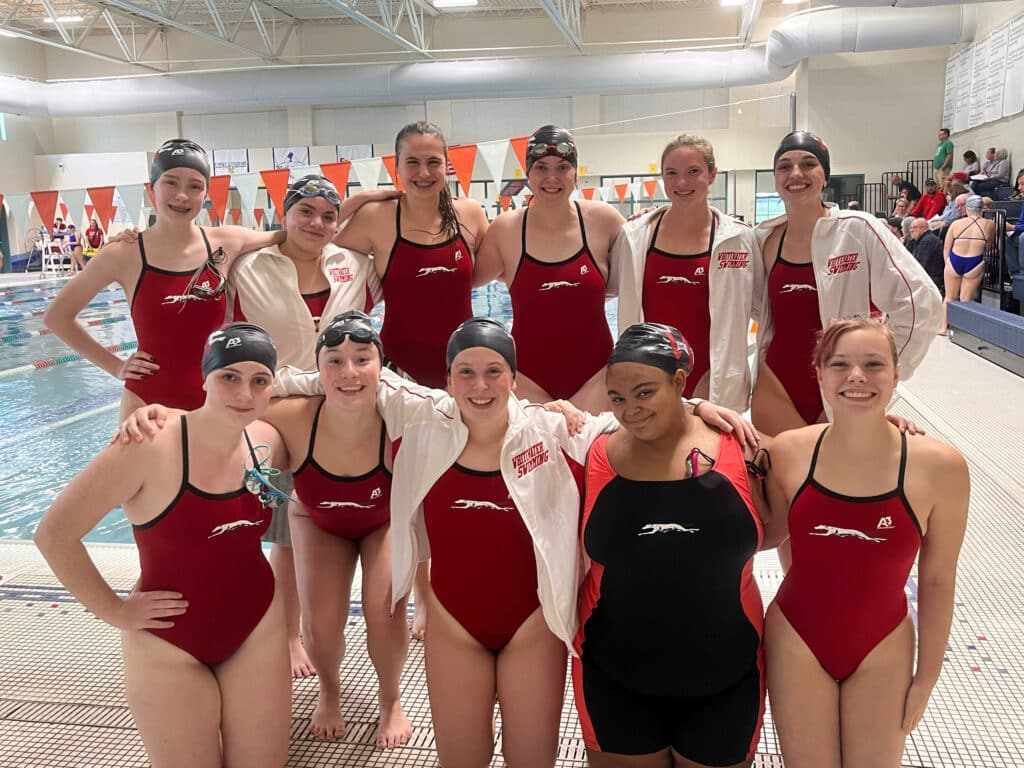 Makayla Bazeley continues to be a power house in the pool. She went a season best time in the 100 Butterfly with a time of 1:00.29. She also had a first-place finish in the 100 Backstroke and won by 4 whole seconds.
Lucy Davis dropped 32 seconds in the 500 Freestyle from last season, and she continues to drop time in the 100 Freestyle.
Emerson Dunham continues to swim strong in her favorite events (500 Freestyle and 100 Breaststroke). She started off the season with an impressive time of 6:09.22 in the 500 Freestyle. We are looking forward to see what the rest of the season has in store for her in these events.
Georgia Esch went best times in both of her individual events including the 100 Freestyle and 100 Backstroke.
Sanibel Fox-Simes participated in the 100 Backstroke for the first time this season. She had an incredible time drop of 41 seconds since last season. On top of dropping 41 seconds, she had just competed in the 200 Freestyle Relay then had to go right into the 100 Backstroke. What an impressive swim!
Adalynn Frye had a personal best time in the 100 Freestyle by dropping 2 seconds to go a 1:30. She continues to get stronger and more confident in her 100 Breaststroke.
Charlotte Hajewski competed in the 200 Freestyle where she set the bar for a successful meet. Charlotte went a best time in the 100 Butterfly with a 3 second time drop going a 1:19.20.
Maggie Maas was the only Whippet swimmer to compete the 200 IM. She went a best time in the 100 Freestyle with a time of 1:07.72.
Marijose Verduzco took on the 200 Freestyle for the first time. As nervous as she was, she still showed up and competed very well. Marijose dropped nearly 10 seconds in her split of the 400 Freestyle Relay.
Atreya Wilson went 3 for 4 in best times this season! She had an impressive time drop of 5 seconds in the 100 Breaststroke.
Zoe Zei absolutely destroyed the 500 Freestyle! The 500 Freestyle has nothing on Zoe. We are excited to see what other events she will compete in this season.
The Swim Team is back in Whippet Territory on Tuesday, September 19, against Badger and Platteville/Lancaster. We hope to see you all there!
Article and Photo Submitted by Sarah Reynolds
Whitewater High School Head Swim Coach
sreynolds@wwusd.org