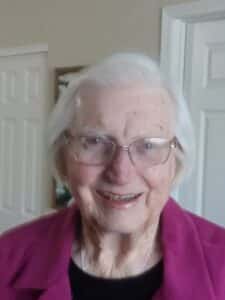 Virginia Nell Lauer, age 89, of Milton, died January 4, 2023 at Huntington Place after a long illness. She was born on August 7, 1933 to John and Lula (Hobbs) Godfrey. Virginia married her high school sweetheart, Willis Lauer, on October 6, 1951 at North Lima Presbyterian Church. Virginia enjoyed working outside in her yard and gardens. She was a talented seamstress, was the clothing leader for Lima 4-H, and taught many young girls to sew. She also enjoyed quilting and golfing. Virginia was a loving wife, mother, grandmother and great-grandmother.
Virginia is survived by her 3 children: Norm Lauer, Rod (Patsy) Lauer, and Laurie (Bill) Garbe; 9 grandchildren: Lee Ann (Rocky) Klitzke, William (Rebecca) Lauer, Beth (Ross) White, Lance (Kelli) Baker, Kristoffer (Candace Robbins) Garbe, Michael (Kris) Garbe, Trevor Garbe, Frank (Janice) Arnold, and Katie (Ryan) Nass; son-in-law: Lee (Rita) Arnold; 16 great-grandchildren. She was preceded in death by her parents, husband: Willis Lauer; daughter: Christine Arnold; grandson: Timothy Lauer; 3 brothers: John Gordon Godfrey, Paul Godfrey, and Willard Godfrey; sister-in-law: Marian Godfrey.
Funeral services will be held at 12:30 p.m. on Thursday, January 12, 2023 at the Albrecht Funeral Homes & Cremation Services, Milton. Burial will follow at Milton Cemetery. Visitation will take place on Thursday at the funeral home from 10:30 a.m. until the start of services. In lieu of flowers, memorials may be made in Virginia's name to Agrace Hospice, MS Society, or the American Cancer Society.
The family would like to thank the Brooke and the staff of Agrace Hospice for the loving care given to their mother. www.albrechtfuneralhomes.com