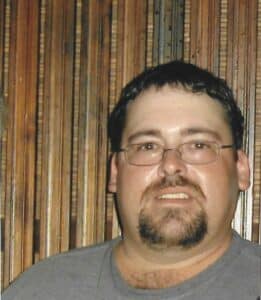 Our family is deeply saddened to announce the passing of Rommel J. Kienbaum on August 14, 2023.
He was born to Carl and June Kienbaum on February 23, 1972, in Fort Atkinson, Wisconsin. Rommel is survived by seven siblings, April Furman of Whitewater, WI, Linda (Ron) Bohlender of Roscoe, IL, Cherie (John) Ells of Fort Atkinson, WI, Carl (Brenda) Kienbaum of Fond Du Lac, WI, Dawn D. Kienbaum of Whitewater, WI, Sterling (Rhonda) Kienbaum of Oshkosh, WI, and Ben (Dawn) Kienbaum of Menomonee Falls, WI. He is also survived by nieces, nephews, great-nieces, and great-nephews.
Rommel was predeceased by his parents, Carl and June, his sister Mariann "Mickie," brother-in-law George Furman, as well as his maternal and paternal grandparents.
Rommel was an honest, funny, kindhearted man who cared deeply for his family and friends; he was however, anything but typical. Never afraid of silliness, Rommel could always incite laughter. He had a magnetic presence and natural playfulness that resonated with all those around him. For his nephews and nieces, they were delighted to have him as their own personal "Uncle Buck."
Employed for the last 20 years with Auto & Scrap Recyclers in Milwaukee, Rommel formed strong bonds amongst his coworkers. An amazing cook, Rommel was known for the great lunches he would bring to share with his fellow coworkers. As dedicated as Rommel was to the recycling of auto and scrap, most would note how much he kept from being scrapped. Rommel loved everything, cars, vintage toys, coins, etc., and did what he could to preserve them. Some would venture to call him a hoarder, but Rommel would be quick to correct that he is a collector!
Often private but rarely alone, Rommel kept canine companionship throughout his life. He had three Pit Bulls named Twenty-Two, Rugger, and Bullet.
Rommel was beloved by all who knew him and will be deeply missed.
Visitation is from 10 a.m. until 12 p.m. on Saturday, August 26, 2023, at First English Lutheran Church, 401 W Main Street, Whitewater. The funeral service will immediately follow the visitation beginning at 12 p.m.
In lieu of flowers please consider a donation in Rommel's memory to First English Lutheran Church.
Nitardy Funeral Home is assisting the family with arrangements. Online condolences can be made at www.nitardyfuneralhome.com