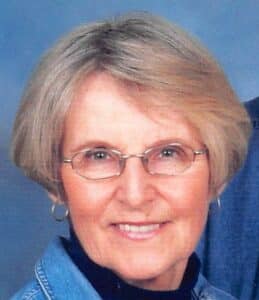 Patricia Jean Keske (Moker), wife, mother, mother-in-law, grand and great-grandmother, sister, sister-in-law, aunt, and friend to many, passed away on May 27, 2023, at the age of 80. Patricia (Pat) was born in Menominee Township, MI, to Jennie Slawinski Moker and Steven Moker. After moving with her parents to Milwaukee, WI, she graduated from Messmer High School in May, 1960. In 1962, she married Russell D. Keske whom she continued to love for 60 years. Together they raised four children. Pat later returned to school and received her degree as a Licensed Practical Nurse.
Pat was a devout Catholic and was a member of St. Peter's Church in East Troy, WI, for the majority of her life, where she volunteered in the school library and The Clothing Center Thrift Shop. Many mornings you could find Pat in her living room reading her Bible. In 2015, Pat moved with Russell to Brocton, IL, where the family farming business was relocated. Pat enjoyed her new friends in Illinois, especially those made at her new parish, St. Aloysius, in nearby Paris.
Pat is preceded in death by her parents, Jennie Slawinski Moker and Steven Moker, her sisters, Delores Menacher and Virginia Adams. Left behind to cherish her memory are her husband, Russell D. Keske, her children and their spouses, Susan and Mark Green, Mary and David Coy, Jean and Dana Wheeler, and Russell David Jr. and Kim Keske, her brother and his wife Steve and Barbara Moker, her 11 grandchildren, Rachel, Chip, Dillon, Anna, Alex, J. J., Joseph, Andrew, Allissa, Naomi, and Tim, her great grandchildren, Landon, Nora and Wilder, and many other beloved relatives and friends. Pat's family thanks Twin Lakes Rehab and Health Care in Paris for their compassionate care of Pat.
In honor of Pat's life, there will be a visitation on Thursday, June 1st, at 9:00 a.m. and Mass at 11:00 a.m. at St. Mary Catholic Church, 528 N. Main St., Paris, IL. In memory of Pat, we will be donating benches to her favorite beach, Booth Lake Memorial Park, P.O. Box 442, East Troy, WI, 53120. Attn: John Kendall (note: In Memory of Patricia Keske).
Online condolences: www.rortvedtfuneralservices.com