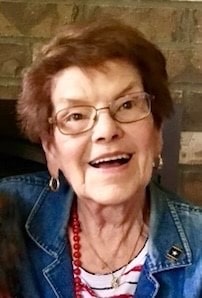 Nancy Carroll Paynter McCord Morrow, 86, of Whitewater, Wisconsin passed away surrounded by friends and family on Wednesday, July 14th.
Nancy was born on January 31, 1935, in Whitewater, Wisconsin, the daughter of Meredith (Bob) & Eldora (Zanton) Paynter. She was the first of seven children.
Nancy graduated from Whitewater High School in 1952 and continued her education at Wisconsin State College – Whitewater.
She married James Arthur McCord in 1953. They had two children, Meredith Ann and James Arthur Junior. While her husband was serving in the Korean War, Nancy and her family lived with her mother and siblings. Upon his return from the war, the family moved to Marine Corps Air Station Cherry Point in North Carolina. After completion of his military career, they moved to the McCord Homestead in Wisconsin.
After the passing of her husband James, Nancy later married Robert Ray Morrow on January 6th, 1968. They had one son, Joseph Robert.
Nancy worked as a bookkeeper in various automotive industries for over 60 years. She also briefly worked at Commercial Bank here in Whitewater. For the majority of her bookkeeping career, she worked at Havill-Spoerl Dealership, where she formed many lifelong friendships.
Nancy was very involved in the Whitewater Community. She was intimately involved in her children's many school and sporting activities. She was a member of the Whitewater Booster club, actively involved in the First English Lutheran Church and an avid sports fan (to say the least), of the Whippets, Warhawks, Badgers, Packers, Bucks and Brewers. With Nancy's love of life, she made friends everywhere she went. She was known and loved by many. Her family was everything to her and she was the heart of the family.
Nancy is survived by her three children, Meredith McCord of Tigard, OR, Jim (Teri) McCord of Tigard, OR, and COL Joseph (Susan) Morrow, United States Army, currently stationed at Scott Air Force Base, IL; two granddaughters, Brittany (Matt) Reader, Krista (Kyle) Sprecher, and three great-grandchildren, Annabelle, Olivia and Jordan Reader, siblings Elizabeth "Liz", Robert "Bob", and Arlene "Enie" and special sister-in-laws, Nubby and Ceila along with many cousins, nieces and nephews.
Nancy was preceded in death by her husband James Arthur McCord (1964), husband Robert Ray Morrow (2018), parents Meredith and Eldora (Zanton) Paynter, and her siblings LaVern, Aryln, and Myron.
Visitation will be from 1:00 pm until 3:00 pm and Memorial Service will follow at First English Lutheran Church in Whitewater on Monday July 19th. Nancy will be laid to rest at Hillside Cemetery in Whitewater on Tuesday, July 20th at 10:00 am.
In lieu of flowers, memorial donations can be made to Return of the Nightingale Project (Return of the Nightingale Project, C/O Meredith McCord, P.O. Box 83126, Portland, OR 97283), or Whitewater American Legion Post 173 in support of Military Veterans (Robert Paynter, 824 E. Main Street, Whitewater. 53190).
The Nitardy Funeral Home is assisting the family. Online condolences may be given to the family at www.nitardyfuneralhome.com.