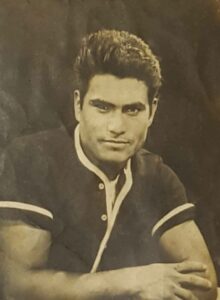 Miguel Aranda Loza of Whitewater, born May 6th, 1944, passed away at the age of 78 on March 7th, 2023 in San Jose de Otates, Mexico. Burial services took place in his hometown of San Jose de Otates, Mexico. He is survived by his wife, Raquel Aranda, and their 11 children: Apolinar, Guadalupe, Eva, Ruben, Lourdes, Antonio, Juan, Marta, Irene, Marissa, and Tania, along with their respective families.
Before settling in Whitewater, Miguel worked in California, Texas, Arizona, Florida, Illinois, and Michigan. Miguel decided to establish his family in Whitewater, Wisconsin 30 years ago, making Whitewater his and his family's home. Miguel has been a long member of St. Patrick's Church. He had a larger than life sense of humor, always joyful and making others laugh (especially his grandkids), and brought sunshine to everyone's morning with his passion for singing. He had a love for baseball and played throughout his childhood before moving to the States.
Miguel and his presence is greatly missed. His chair will always remain the first and last seat you will see as you enter and leave his home, remembering his greetings and goodbyes.
Te Amo Viejito