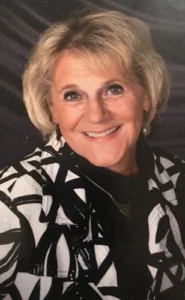 Loretta Frances Schrank, "Lori", was three days shy of her 76th birthday when she passed away after a courageous battle with Alzheimer's disease. She was born January 7, 1947 in Chicago, IL to Raymond and Helen (Pasternak) Burkhardt. The third of four children, Lori grew up in Chicago, IL before her family moved to Whitewater, WI. She graduated from Whitewater High School and earned her teaching Bachelor's and Master's degrees from UW-Whitewater. She was a loving and devoted mother to her sons, Benjamin and Andrew. She married the love of her life, Bill Schrank on December 27, 1986 at St. Mary Catholic Church in Milton, WI.
Lori started her teaching career at the age of 19 with 36 fourth graders at St. Williams Catholic School in Janesville. She spent the majority of her years as a second-grade teacher at Milton West Elementary School where she poured all of her energy and passion into her work with her "kids." Lori was very artistic and created magical things in her classroom for her students. How could they forget that they had to RSVP to come to Mrs. Schrank's house for Christmas breakfast and to the end of the year pool party? Many of those students have called her their favorite teacher of all time.
Lori had a zest for life and lived by the phrase, "Treat your friends like family and your family like friends." She treasured and nurtured each and every relationship with the ones she loved. She had a thousand-watt smile and anyone that ever met her fell in love with her immediately. She was a phenomenal wife, mother, sister, and auntie, but her favorite role was being "Grammie" for her grandbabies. She was always so proud of them all. Lori had many nieces and nephews that she loved and lived for as well. There never was a dull moment with her, and the kids enjoyed swimming in the pool and eating bomb popsicles after, going to the movies, playing cards and games, and seeing who could tell the best joke. She attended many of their games and concerts and they knew she was there when they heard her signature loud whistle to celebrate their achievements.
Lori was also very competitive and a terrific athlete. She loved to play softball for the Belles of St. Mary and was especially proud of the 1992 Monday Night Women's League Championship. That was the year their team beat a team of young girls that had been at the High School State Girls Softball tournament the year before. They even went to St. Mary Church after the game, and asked Father McEnry to let them ring the bell. She loved to fish and enjoyed the many Canadian houseboat fishing trips over the years. Even though on many trips she was the only woman, she seemed to have the knack of always catching the biggest fish. Earning her the title, "The Boat Bitch."
She was a true animal lover. Friends and family fondly remember her rehabilitating baby raccoons and calling them out of the woods like she was Dr. Dolittle, making friends at every chance with any dog or cat she saw, visiting Ben at his zoo jobs to see the lions and tigers, and loving up on her own dogs and kitties.
Lori is survived by Bill, her loving husband of 36 years, and sons Ben (Leah) Smejkal of Clintonville, WI and Andy (Ashley) Smejkal of Grand Junction, WI. She is also survived by her sister Mary Ann Burkhardt (Sue Hale) of Janesville, WI and Diane (Paul) Joseph of Delavan, WI, sister-in-law Susan Burkhardt, Tomahawk, WI and brother-in-law Bob (Sharon) Schrank, Milton, WI. Grandchildren Alyssa (Codi) Papcke and their son Finley, Austin (Amber Katz) Smejkal and their daughter Luna, Lily, Veda, and Nala Smejkal and Xoe Smejkal (children of Andy); Sami, Brock, and Alli Smejkal (children of Ben). Additionally, she is survived by several very special nieces and nephews.
Lori is preceded in death by her parents Raymond and Helen Burkhardt, father and mother-in-law Harold and Jeannine Schrank, brother Raymond Burkhardt, daughter Sarah Smejkal and niece Amy Schrank.
A Mass of Christian Burial will be celebrated at 11:00 a.m. on Saturday, January 14th, 2023 at St. Mary Catholic Church, Milton with Father David Wanish officiating. Burial will follow at Milton Lawns Cemetery. Visitation will be at the Albrecht Funeral Homes & Cremation Services, Milton on Friday, January 13th, 2023 from 4:00 – 7:00 p.m. and again Saturday at the church from 9:30 a.m. until the time of the mass. Memorials can be made out to St. Mary Catholic Church.
The Albrecht Funeral Homes & Cremation Services, Milton is assisting the family with arrangements.