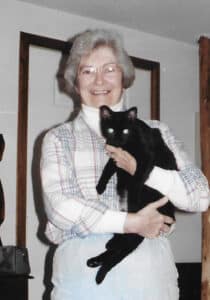 Lenore J. Pavlick of rural Whitewater passed away July 11, 2022 at home surrounded by her quilts and faithful cats.
Lenore was the daughter of Thomas and Alice Johnston of Brookings, S.D. Lenore married Anthony (Tony) Pavlick on August 16, 1958, in Sioux Falls, S.D. The Pavlicks were wed for 63 years. Anthony preceded her in death on August 24, 2021.
She received both her Bachelor's and Master's degrees in English from South Dakota State in Brookings. For 34 years Lenore taught English at Edgerton Community High School.
Following her retirement, she volunteered for many years in the office at Rainbow Hospice in Johnson Creek where her many skills were deeply appreciated. Lenore also volunteered as a driver for cancer patients in Jefferson, Rock and Walworth counties.
One of the greatest joys in her life beyond her cats was her quilting club, "the Strippers" and the friends she made pursuing this craft. During these last years, her life was brightened by visits from her fellow quilters, Sue Scherer and Nancy Wentworth and others.
Many thanks to her caregivers from Christian Servants Home Care, Kelli, Mellisa, Dawnelle, Debbie, Coral, Nancy and Shanelle who provided her with amazing and loving care for the past few years. Also heartfelt thanks to Gretchen, Kendra, Terra and Sarah of Rainbow Hospice for their expertise, comfort and support. Special thanks also to Paul Jhona for his friendship and presence for many, many years.
Memorials in Lenore's name may be made to Rainbow Hospice, 1225 Remmel Dr., Johnson Creek, WI 53094 or Jefferson County Humane Society, W6127 Kiesling Rd., Jefferson, WI 53549.
Per Lenore's request there will be no services. Her body was donated to the UW-Madison School of Medicine.