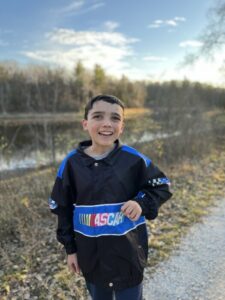 Joseph Israel Bushey, 13, went to be with his Lord and Savior Jesus on Tuesday, January 31, 2023 after a valiant fight against Huntington's Disease. Joseph passed 11 days after his dear sister, Grace, passed from the same disease.
Joseph was born on November 19, 2009 in Madison, WI. He was the son of Chad and Kim (Raatz) Bushey. Joseph was a sweet, gentle and happy boy. He had a smile that would light up the room. He was a NASCAR super fan and loved racing and race cars. He was especially fond of blue race cars and every year for his birthday, race cars were at the top of his list. Joseph was also a very prayerful boy and was excited to meet Jesus. Another one of Joseph's interests was sand dunes. He thought they were beautiful and interesting. One year, Joseph went on a trip with this family to Michigan where he was able to experience the sand dunes around Lake Michigan and also do some fishing. They all had a wonderful time together making memories that both Joseph and his loved ones cherish deeply. Joseph was a beautiful little boy and his family takes great comfort in the fact that he is with Jesus in Heaven where there is no such thing as Huntington's Disease.
He is survived by: his loving parents, Chad and Kim Bushey of Whitewater, WI; his maternal grandparents, Suzanne and David Roth of Tomahawk, WI; his paternal grandparents, Dennis and Peggy Bushey of East Troy, WI; and his loving siblings, Kari, Elizabeth, Jeremiah, Perpetua, Ezekiel, Justice, Ava, Hannah, Ezra, and Emily. He is also survived by a number of other relatives and friends.
He is preceded in death by his brother, Samuel, his sister, Grace and his maternal grandfather, Lee.
Memorial Donations may be made to Chad and Kim's ministry for the children: "The Carpenter's Flock" (a tax deductible entity) in Joseph's honor. W5621 Tamarack Trail, Whitewater, WI 53190.
A Funeral Service to thank God for Joseph's life will be held on Saturday, February 11, 2023 at 12:00 Noon at The Gibson Family Funeral Home in Eagle, WI (499 Elkhorn Road, Eagle, WI 53119). Pastor Kevin Tranel will officiate the service. Visitation will take place from 10:00 a.m. until the time of service at the funeral home. Joseph will be laid to rest following the service next to his sister Grace in Oak Ridge Cemetery of Eagle, WI.
Gibson Family Funeral Homes of Palmyra and Eagle, WI is serving the family. To place an online condolence, please visit gibsonfuneral.com