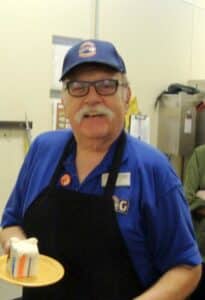 Gerald Wm. Mallmann, 72, of Whitewater, WI passed away peacefully on Friday, May 12, 2023, at Our House Senior Living. He was surrounded by friends.
Jerry was born on November 10, 1950 in Sheboygan, WI, the son of William H. and Wilma M. (Jahn) Mallmann. He grew up in Sheboygan where he was confirmed at St. Andrew Lutheran Church and graduated from high school in Sheboygan. Jerry enjoyed his youth in Sheboygan and especially his many family summer vacations, traveling by car stopping to experience the many roadside attractions the era had to offer.
Jerry furthered his education at Madison College where he received his degree in the culinary arts. Jerry used his skills to open several area restaurants by helping to create their menus, writing their production specifications and training kitchen staff members. In the 1970's Jerry took a job as chef at Alpine Valley Resort in East Troy, WI. He retired from the contracted food service at the University of Wisconsin-Whitewater at the end of 2016.
In retirement, Jerry enjoyed Sunday brunches with friends, morning coffee with "the boys" and Saturday morning trips to the farmers' market in Madison. Jerry also had a thirst for all things related to Wisconsin's rich history.
He is survived by his friend, James Allen of Whitewater, a special caregiver, Brittany Waits and many friends. Jerry was a member of the First United Methodist Church, Whitewater.
Jerry is preceded in death by his parents, William and Wilma Mallmann.
Jerry will be laid to rest next to his parents during a private service in Wildwood Cemetery of Sheboygan, WI.
Special thanks for the angel-sent folks at Rainbow Hospice and the caregivers at Our House Senior Living Center in Whitewater, WI.
The Gibson Family Funeral Homes of Palmyra and Eagle, WI is assisting with the arrangements. To place an online condolence, visit gibsonfuneral.com.
Memorials in Jerry's honor may be made to the Wisconsin Historical Foundation, PO Box 260050, Madison, WI 53726-0050 (888)748-7479.