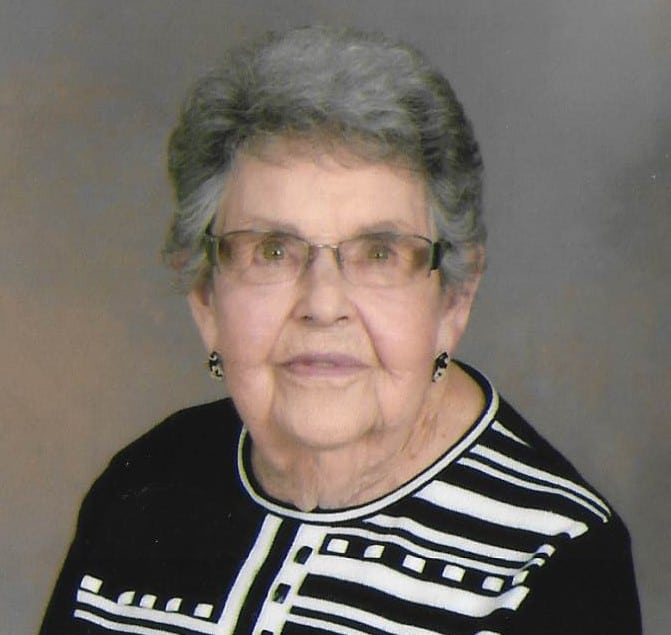 On the evening of Monday, June 28, 2021, Elizabeth (Beth) Eachor, 98, passed away peacefully in Whitewater, Wisconsin, in the company of her dear friend, Allen Grady.
Beth was born on April 21, 1923 to Edwin and Anna Harris Boyd on their family farm outside of Whitewater. Beth was active in 4-H as a youth and later as a 4-H leader. She met Francis (Fran) Eachor in March 1938 while performing in a 4-H play that he helped to direct, and they courted for the next five years. Beth graduated from Whitewater City High School in 1940. On June 7, 1943, Beth and Fran were married in a double ceremony that included her elder sister Sarah and brother-in-law Vincent Stubbs.
Beth and Fran had three daughters: Annette, Nancy, and Linda. As a family, they enjoyed taking road trips each summer to explore historic sites throughout the United States, including the Gulf Coast, where Beth and Fran would eventually spend their retirement. Unconventionally for her time, Beth resumed her education after having her children, earning her B.A. from the University of Wisconsin, Whitewater. Beth's teaching career started in Rock County, and she taught in Fort Atkinson until her retirement in 1981.
Following her retirement, Beth and her husband started a new chapter in their lives when they moved from Fort Atkinson to Spanish Cove in Lillian, Alabama. For thirty happy years, Beth lived a full life in retirement, enjoying frequent cross-country trips in the family camper with Fran as they traveled to visit relatives in such far-flung places as Wisconsin, New York, and California. For entertainment, they loved visiting with friends and attending square dances, often in matching outfits made by Beth herself. Following Fran's passing in 1990, Beth devoted more time to her community and friends, becoming active in the Baldwin Literature Council as a tutor and joining the Red Hat Society. Her pioneer spirit compelled her to travel the world extensively as a member of the South Alabama Senior Travelers, visiting Alaska, Hawaii, France, the Czech Republic, Hungary, Sicily, Italy, Wales, Ireland, Spain, Bermuda, Canada, Austria, Scotland, Panama, Costa Rica, Columbia, Mexico, the Bahamas, Curaçao, Nova Scotia, Australia, Greece, Norway, Sweden, Denmark, Russia, Finland, and Switzerland.
The proud descendent of Scotch-Irish Presbyterians who founded the North Lima Presbyterian Church in 1850, Beth made her Christian faith a cornerstone of her family's life. In her retirement, she was an active member of the First Presbyterian Church of Foley, Alabama, serving in many different capacities: Elder, Sunday School teacher, Vacation Bible School teacher, Presbyterian Women member, and Stephen Minister. She was awarded a Life Membership in Presbyterian Women for her leadership skills.
In 2011, Beth returned to Whitewater, where she resided at Fairhaven. During her time there, she enjoyed participating in many activities. This included providing interviews to UW Whitewater students about her time as an elementary school teacher. Until the start of the pandemic made such interactions impossible, she was still sharing her love of teaching with UW students. Beth also became a member of the Congregational United Church of Christ and their Women's Group. Further, she was active in the Alpha Minnieska Club, part of the Whitewater Federation of Women's Clubs, and she was also a member of the Wisconsin Education Association.
Beth was a strong and loving matriarch who provided her family with a sense of continuity across both time and space: she preserved ancestral memories through the stories and mementos she passed down to her children and grandchildren, and she traveled all over the US, visiting family until well into her 80s. Although she would not have considered herself a feminist, the way in which she balanced career and family, and her determination to continue living a full life following the passing of her husband, seems more in keeping with the social attitudes of younger generations than those of her contemporaries. Beth thoroughly enjoyed socializing and playing cards, and she was always impeccably dressed for every occasion, her outfits coordinated to the smallest detail. Throughout her life, Beth cherished her relationships with her many faithful and steadfast friends. She also believed in caring for those who were unwell or in need, and she lived this belief by being attentive to sick friends and family and by donating to various charities. She brought great joy to family and friends, and she will be greatly missed.
Beth was preceded in death by her husband, Francis, her sister, Sarah Stubbs, of Whitewater, and her daughter, Annette Setka, of Garrison, TX. Survivors include daughters Nancy (Kenn) Bailey of Hollister, CA and Linda (Terry) Floeter of Portage, WI; grandchildren Trisha Garcia, Tanja (Wyatt) Edenfield, Monique (Michael) Wicker, Jessica (Scott) Stellmacher, Elizabeth (Bryan) Miller, Stella Setka (Ethan Alexander), Nicholas (Amy) Bailey, Robert Bailey, and James Floeter; great-grandchildren Niko Garcia, Nathan Wicker, Colton Wicker, Carter Wicker, Ava Stellmacher, William Miller, Madisen Miller, Brinkley Miller, Benjamin Edenfield, Vivian Edenfield, Emma Bailey, Zelda Alexander, and J. Wilder Alexander.
Beth's family would like to offer special thanks to Allen Grady, her very dear friend, whose kindness and companionship brought Beth much joy during her years at Fairhaven.
A memorial service is scheduled for Friday, September 10, 2021 at Nitardy Funeral Home in Whitewater. Visitation begins at 10 a.m., with a service to follow at 11. Interment will take place immediately after the service at Hillside cemetery in Whitewater. The family asks for donations in lieu of flowers addressed to:
Friends of Fairhaven
Attn:  Beth Johnson
435 W. Starin Rd
Whitewater, WI 53190
Nitardy Funeral Home is assisting the family with arrangements. Online condolences can be made at www.nitardyfuneralhome.com