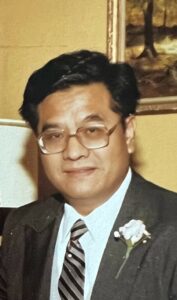 Dr. John C.H. Oh, Ph.D., passed away peacefully at Oakwood Village, in Madison, Wisconsin on November 9, 2023. He was born in Korea as Chung-Hwan Oh in 1934. In the early 1950s, John came alone to the United States to pursue his dreams. In New York, he met the love of his life Joy (Kim Hie-Sook) whom he would marry in 1958, and together they built a life and family. John is survived by Joy, his wife of 65 years, who was at his side on his last day; daughters Ruth Oh (W. Fuji) and Elizabeth Oh Uglow (Jay); sons Dr. James Oh (Cheryl) and Dr. David Oh (Christina); and 8 grandchildren: Kathryn (Juan), Christopher, Jonathan, Justin, Timothy, Michael, Elizabeth and Allison.

He is also survived by brother Oh Chung-Sub (Baltimore); sister Oh Chung-Ae (Seoul); and sister Kim Chung-Bok (Rev. David Kim, Houston).

John valued the importance of education and was inspired by the American system of democracy. In 1955, he earned his B.A. from Florida Southern University and a Master of Arts from Southern Illinois University in 1956. In 1961, at the age of 27, John earned his Ph.D. from New York University. He was the original Dr. Oh of the family. John served, with distinction, as a Professor at the University of Wisconsin-Whitewater in the Department of Political Science, where he helped to establish the Public Policy and Administration Major and served as its first coordinator. In 1997, before retiring as an Emeritus Professor, John received a Governor's Special Award in appreciation for his 35 years of dedicated service to the State of Wisconsin from the Honorable Governor Tommy Thompson.

From 2005 to 2022, John and his wife Joy lived as retirees in Temecula, California. In 2022, John and Joy returned to Wisconsin, residing at Oakwood Village in Madison. A Memorial Service will be held at the Oakwood East Tree of Life Chapel on Tuesday, November 21 at 3:00 P.M.

In lieu of flowers, contributions may be made in John's honor to the Oakwood Foundation (www.oakwoodfoundationinc.org). All Faiths Funeral Home is assisting the family with arrangements. Online condolences can be made at www.866allfaiths.com.