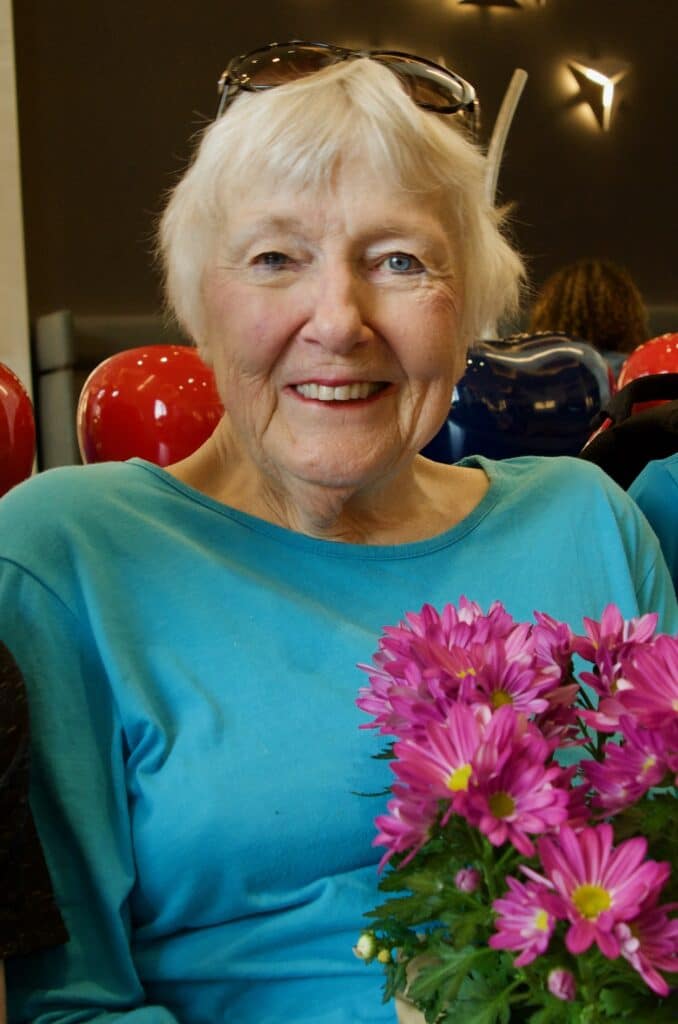 Carolyn E. Wedin died on July 28, 2021, at Regions Hospital in St. Paul, Minnesota. She was 81. Carolyn blended many facets of her life with tenacity and charm: devoted member of her large family, loving mother and grandmother, accomplished author, lauded professor, generous mentor, world traveler, silver-tongued radio commentator, spirited keeper of Swedish heritage in Northwestern Wisconsin, skilled Swedish/English translator, passionate sports fan. It is impossible to celebrate only one dimension of Carolyn's shining life.
Born in Frederic, Wisconsin to parents Reuben and Ruth Hane Wedin, she was the youngest of eight siblings. She valued education her entire life, beginning in a one-room country school at Round Lake and Frederic High School (1957). She pursued higher education at Gustavus Adolphus College (1961), the University of Kansas (1964), and the University of Wisconsin (1976), earning B.A., M.A., and Ph.D. degrees in writing and literature. Throughout her life she expressed her love of music on cornet and with her beautiful voice. She was elected to Phi Beta Kappa and earned recognition for her academic accomplishments from prestigious organizations such as the Woodrow Wilson National Fellowship Foundation, which twice named her as a Woodrow Wilson Fellow (1961 – 63) and a Dissertation Fellow (1975 – 76).
Carolyn was part of the first generation of women who broke into university teaching on a large scale. Her early teaching at the historically black Shaw University in Raleigh, North Carolina inspired her focus on African American literature. When in 1965 the Klu Klux Klan burned a cross on the campus and her front yard to oppose the Civil Rights Movement at Shaw, Carolyn was the first to include black literature in the curriculum. In 1966, she joined the faculty of the University of Wisconsin – Whitewater, where she stayed for the remainder of her career. She taught and wrote about the literature and social justice work of people including James Baldwin ("James Baldwin," 1980), Jessie Faucet ("Jessie Redmond Fauset," 1981), and Mary White Ovington ("Inheritors of the Spirit: Mary White Ovington and the Founding of the National Association for the Advancement of Colored People," 1997).
As testament to her professional success, she was selected as a fellow of the Institute for Research in the Humanities at the University of Wisconsin, a Fulbright Lecturer at the University of Silesia in Poland (1991 – 92), and a Fulbright Roving Scholar in Norway (1996 – 97). She also served interim appointments as a University of Wisconsin System Administrator (1975 – 76, 1980, 1981), as a Lecturer at the University of Gothenburg, Sweden (1985 – 86), and as Senior Research Associate at the University of Wisconsin System Institute on Race and Ethnicity (1992 – 93). She accepted the title of Professor Emeritus at UW-Whitewater upon her retirement in 1996.
Carolyn was a prolific author and commentator. In addition to writing her memoir Teacher: Step Outside (2017), other books, and voluminous contributions to journals, newspapers, and encyclopedias, she often shared her perspectives on Wisconsin Public Radio. She cared deeply for the community where she grew up and so, following her retirement from UW Whitewater, she returned to Frederic in 1998. She continued to teach and write, and her lively participation throughout the area included classes in drama and writing through Frederic Community Education and the Swedish Club of Western Wisconsin. Her deep knowledge and love for local history led her to write a book about her grandmother and mother, "A Story of Immigration" (2013), and to translate and edit Louis Ahlstrom's memoir "Historiska Skildringar" (with Inger Berggren and Stefan Sylvander). Ahlstrom was a key leader in the early immigration to West Sweden and Trade Lake; the book appeared in 2010 as "Historical Sketches: Fifty-five Years in Western Wisconsin 1869 – 1924." Carolyn was an enthusiastic supporter and organizer of cultural and educational institutions and events, and a keen local tour guide for friends and relatives from far and wide.
Carolyn's family, friends, and students will remember her as a nurturer-extraordinaire who used many means and methods to encourage growth and joy in life, from hosting holiday smorgasbords to reviewing manuscripts. She crossed many boundaries—as a woman in academia, as white scholar of African American literature, as sometimes expatriate, as intrepid traveler—providing a role model for others. A woman of extraordinary empathy, she always met people in the present moment and knew just what to say or do. Her energy for encouraging others to break through any perceived limitations was boundless, and through every new venture or challenge she would say, "I hope you are journaling about it!"
Carolyn is survived by her husband, Anthony Rolloff, her children Monika Byrd (Shane), Mario Sylvander (Carmen), and Brendan Sylvander (Jill), and six grandchildren – Amanda Creden, Samuel Creden, Laken Sylvander, Henrik Sylvander, Milo Sylvander, and Sylvie Sylvander.
Those whom she leaves behind will never forget her wit, intellect, grace and undying love and care for them. Memorial services will be Saturday, August 7, at 2 p.m. at Zion Lutheran Church of Trade Lake (11841 County Road Z, Frederic, Wisconsin).
Memorial donations may be made to the Gustavus Adolphus College Fund to provide scholarships (https://gustavus.edu/giving/waystogive.php Gustavus Adolphus College, Office of Advancement, 800 West College Avenue, St. Peter, MN 56082, 1-800-726-6192).