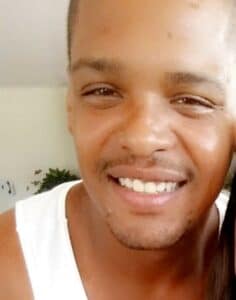 Donald Walter "Creepy" Samuels, 41, of Fort Atkinson passed away unexpectedly on Wednesday, June 8, 2022 at his home surrounded by his loved ones.
Don was born on June 26, 1980 in Chicago, Illinios to Donald Walter Zunker Jr. and Alicia Samuels along with four siblings. He grew up in Chicago and attended Dvorak grammar school before moving to Fort Atkinson with his father. Don attended Fort Atkinson high school and received his diploma. While attending high school, Don met his friends, The Frowns, and have been friends ever since. In 2004, Don met the love of his life, Victoria Ruiz, and they spent 18 years together. Don was proud of his employment at Sierra Concepts as a foreman supervisor for six years.
He was an avid pool player, enjoyed music, having a good time, playing cards, playing basketball with his son, and overall spending time with all of his children. Don was often known as the "Life of the party," and could light up a room with the smile on his face. He had lots of friends amongst many groups – he took people for who they were and was never judgmental, unless you liked anyone else besides the Bears and Chicago sports (minus the White Sox).
Don is survived by his fiancé, Victoria Ruiz; children, Miranda (Aaron Rafferty) Samuels, Tatiyana Samuels, Dontae Samuels, Neveah Samuels; aunts and uncles, Laura (Pete) Kaczynski, Debbie (hank) Reyes, Cindy (Brent) Keller, Steven Schoonover; siblings, Demetrius (Cassandra) Samuels, Deeanner (Darrien Wilson) Samuels; best friends, Nicholas (Nicole Mayans) Alvarado, Lorenzo (Megan Anderson) Mares, Jaime (Maribel Aguilera) Vega; nieces, April Samuels, Viola Kelly, Kadijah Kelly, Ariana Brown, Alicia Brown; nephews, Michael Samuels, Demetrius Golden, Alprentice "Little Bear" Samuels Jr., Izaiah Brown, Damari Wilson; and many cousins and friends.
He was preceded in death by his grandparents, Donald Walter Zunker Sr. and Gayle Zunker, Joshua Samuels Sr. and Annie Samuels; parents, Donald Walter Zunker Jr. and Alicia Samuels; brothers, Ophius A. Samuels, Alprentice "Pooh Bear" Samuels; uncles, Bryan Zunker, Edward Samuels, Joshua Samuels, Perry Dudley; aunts, Charlene Samuels, Connie Zunker; cousins, Steven Schoonover, Shawna Turley; and godfather, Jimmy Green.
Funeral services will take place at 6 p.m. on Friday, June 17, 2022 at Nitardy Funeral Home, 1008 Madison Ave. Fort Atkinson, WI 53538.  Visitation will take place from 4 p.m. until the time of service.
In lieu of flowers, please donate to the memorial fund that will be set up in Don's name for his children at PremierBank.
Special thanks to friends that turned into family and have stepped up to care for Don's family as their own.

Don's children express, "I never knew how much a person could mean to me until I lost him. He was literally the only person who could lighten up my day. There is no one who could make me laugh like he could, there is no one who can make me smile like he could. He could just make someone smile by just arriving because, no matter what has or had happen he always had a smile on his face and always knew what to do to make someone else happy again.  My dad has and will always be my best friend no matter if he was here with me or up there watching over me.  He may have had his bad moments but no matter what he would always be there for my siblings and I, there wasn't ever a time where I had to be worry if he was going to be there or not. As much as it hurts to say it, he is in a better place, with no suffering and no pain up in the clouds with all the beautiful angels. I love you forever and always dad ❤️. – YOUR BABIES"
His fiancé goes on to remark, "You & I been mourning together, inseparable, we chose pain over pleasure. For that you'll forever be apart of me; my mind, body and soul. Ain't no I In we (BABY) Baby boy put it on me ❤️ One life. One love. Love you forever and always-WIFEY"

Online condolences can be made at www.nitardyfuneralhome.com