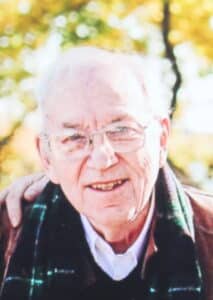 Donald W. McCready Jr. passed away peacefully at the age of 95 on September 25, 2022 at Heritage Monona assisted living with hospice care from Bristol Hospice.
Born on January 17th, 1927 in Menasha, Wisconsin to Donald Sr. and Henriette McCready.  Shortly after that the family moved to Ann Arbor, Michigan,where his father Don Sr accepted a position as an associate professor of Chemical Engineering at the University of Michigan from 1929 – 1966.
Don enlisted in the Army, towards the end of WW2, in the Cavalry division, and was stationed in Germany after the war.
He married Sally Helen Wyman on Aug. 17, 1948, in Ann Arbor. Sally was the love of his life and they met in high school and were together until her death in 2008.
At the University of Michigan, Don received degrees in vision research (a specialty within Experimental Psychology) and got master's and Doctorate degrees in Psychology as well.
He is one of the leading authorities on the science of the moon illusion and on size, distance, and visual angle perception. He was a guest on NPR Science Friday.
In 1963 the family moved from Ann Arbor to Park Forest, Ill., when Don accepted a position at the University of Chicago, and in 1965 the family moved to Whitewater when he accepted a position at the University of Wisconsin-Whitewater as a psychology professor.  In 1992, Don retired from the UW-W and began to devote more time to painting.
Don is an award winning artist and received art training early and in high school. He painted as often as his full-time teaching and research career allowed. After retiring he spent more and more time painting and taking art classes at UW-Whitewater.
Don exhibited in regional, juried shows and sometimes earned top awards. His paintings can be found in homes and offices from coast to coast.

He also accepted commissions: In 1985, the Apple Computer Co. had him paint a large portrait of their "new" Apple IIe and Apple IIc, to hang in the main office of the Apple Division. In exchange he received a complete Apple IIe system. And, in 1988, SuperAmerica commissioned a large painting of one of its stores to hang in the foyer of the corporate headquarters near Minneapolis.
Don was preceded in death by his son Matthew George McCready in 2013 and his wife Sally (Wyman) McCready in 2008.
He is survived by his sons Sam McCready of Monona, WI, and his son Ben (Anne) McCready of Georgetown, TX, as well as eight grandchildren and seven great-grandchildren.
No memorial services are planned at this time.