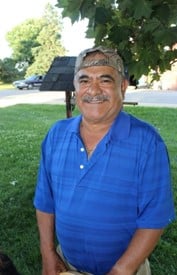 Antonio Villegas Arredondo
Passed on October 5th 2022, age 74, surrounded by his beloved family.  Survived by his wife Maria Felicitas Villegas, daughter Juanita, son Juan A. (Veronica), daughter Maria (Francisco), son Fernando (Tara), daughter Gabriela (Juan) and beloved grandchildren (18) and great-grandchildren (9).
A visitation will be held on Saturday, October 8th 2022 from 5 p.m.-7 p.m. with a service to follow from 7 p.m.-8 p.m. at Nitardy Funeral Home 550 N. Newcomb St. Whitewater, WI 53190.
Antonio was a beloved husband, father, brother, and grandfather who would put everyone before himself.  He loved gardening; everything his green thumbs touched grew.  He enjoyed fishing with his grandsons. He loved spending time feeding and loving his family.  He will be truly missed by his family and friends.  He was the best father, brother, and grandpa.
We love you and will miss you Papi Toño, forever in our hearts.
Antonio Villegas Arredondo
Falleció el 5 de Octubre del 2022 a la edad de 74 años, rodeado de su querida familia.
Sobrevivido por su esposa Maria Felicitas Villegas, su hija Juanita, su hijo Juan A. (Veronica), su hija Maria (Francisco), su hijo Fernando (Tara), su hija Gabriela (Juan) y sus queridos 18 nietos y 9 bisnietos.
Visitación será el sábado 8 de Octubre 2022 a las 5pm-7pm y el servicio de 7pm-8pm
Flores se pueden enviar a
Nitardy
550 North Newcomb
Whitewater WI 53190
Antonio fue un esposo, padre, hermano y abuelo quien fue amado y dejo una inmensa huella en nuestros corazones. Él fue alguien quien puso a otros antes que él. Él le encantaba la jardinería, disfrutaba pescar con sus nietos. Le encantaba pasar su tiempo alimentando y cuidando a su familia. Antonio va a hacer verdaderamente extrañado por su familia y amigos. Él era el mejor padre, hermano y abuelo.
Te corazones.amamos y te extrañaremos siempre Papi Toño. Vivirás siempre en nuestros