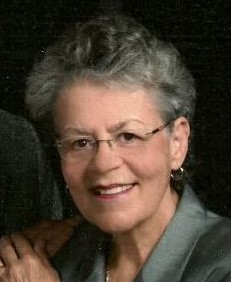 Mary Shea Peters passed away peacefully on October 16, 2019 at Waukesha Memorial Hospital. During her final days, she was surrounded by many family members who helped to care and comfort her as she made the transition to being with her Lord and Savior, as well as other loved ones, in heaven.
Mary was born in Dodgeville, WI on August 20, 1947 to Leone (Wiest) and James Francis Shea. She graduated from Dodgeville High School. She was married to Roger Flanagan for 26 years and was blessed with two children, Kari and Kathleen. She married the love of her life, Ralph Peters, on March 5, 1997 at St. Paul's Lutheran Church in Fort Atkinson, WI. They were blessed with 22 years together until Ralph's passing on October 3, 2019.
Mary pursued different careers throughout her life including legal assistant, real estate agent and executive assistant. She is retired from WD Hoard & Sons.
Mary is fondly remembered for her strong faith, her love and enjoyment of her family, her close family ties and her dedication and loving care for her husband, Ralph. Mary was proud of her Irish Heritage, enjoyed Irish Music especially the Irish Rovers and loved to collect family recipes. Everyone loved Mary's krispie treats.
Mary is survived by her daughters: Kari Flanagan of Mukwonago and Kathleen (Marc) Harris of Salem, South Dakota, her step-children, Ralph (Ilse) Peters Jr. of Fort Atkinson, Marian (Eric) Jacobsen of Menomonie, and Kurt (Rebecca) Peters of West Bend. Mary is also survived by her brothers and sisters including Jim Kiley of Rowlette, TX, Janet McGuire of Verona, John (Diane) Shea of Barneveld, Pat Shea of Madison, Carol Higgins (Ken Laufenberg) of Dodgeville, Julie (Lyle) Farnsworth of Fort Atkinson, Mike (Sharon) Shea of Dodgeville. Finally, she is survived by 15 grandchildren: Amber, Allison, Kailey, Benedict, Kirsten, Nicole, Sarah, Shanna, Michelle, Amber, Brittney, Stephanie, Sean, Kellie, Katherine, 18 great grandchildren, her Godmother, Glady Starry, her Aunt, Margaret Wiest and her brother-in-law, Thomas Peters.
Preceding Mary in death was her beloved husband, Ralph Peters, her step-daughter, Debra Jean Peters, her parents, Leone (Wiest) and James Francis Shea and her grandchildren Faith, Michael, Joy, Hope, Andrew, Claire, Grace and Lucy Harris, sister-in-law, Myrna Kiley, brother-in-law, Paul McGuire, nephew, Paul James McGuire and her sister in law, Carol (Edward) Van Cleave.
A visitation will be held on Tuesday, October 22, 2019 at St. Patrick Catholic Church, 1225 West Main Street, Whitewater, WI 53190 from 9 a.m. to 11:00 a.m. Funeral services will begin right after the visitation at 11 am.
Memorials can be made in Mary's name to the charity of one's choice.
Nitardy Funeral Home is assisting the family with arrangements.
www.nitardyfuneralhome.com