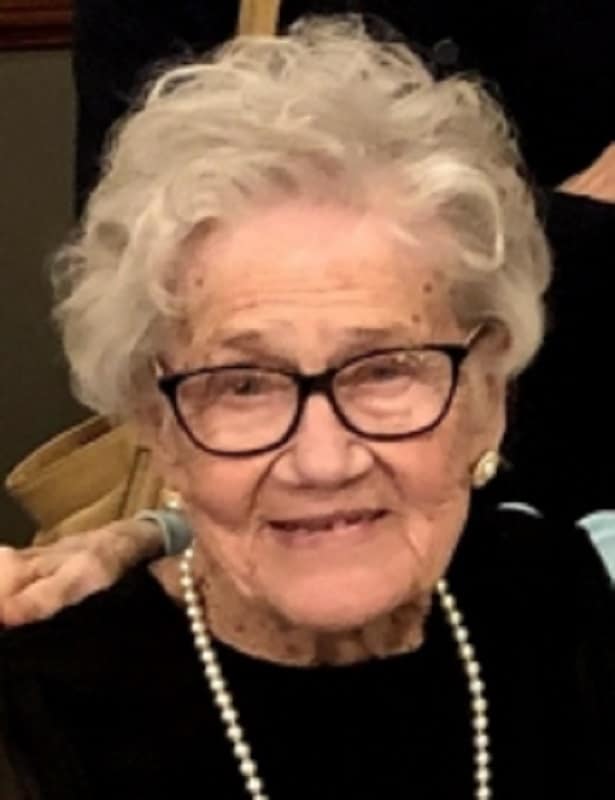 Mary Ellen Pope, a long-time resident of Whitewater, Wisconsin, lost her battle with Multiple Myeloma on Friday, March 13, 2020, at the age of 91, at Agrace Hospice & Palliative Care in Janesville, Wisconsin. Born to August and Helen (Wellnitz) Frei on March 8, 1929, in Chewelah, Washington, she was the fifth of eight children. When she was a toddler, the family packed up everything they could fit in their 1927 Chevy sedan and traveled back to Wisconsin during the Great Depression. She attended Finch School in La Prairie, a one-room schoolhouse through 8th grade, and even though she was bothered by her lack of a high school diploma; it never stopped her from going for something she set her heart on achieving. While working on the family farm with her parents and siblings, she learned a strong work ethic, which showed when she was named the Chicken Plucking Champion at the Rock County Fair as a teenager. Mary Ellen was a fun-loving girl who loved to dance and it was at a barn dance she met Charles Donald Pope and fell for him and his motorcycle. In 1950 they married in Janesville at St. Mary's Catholic Church, and in 1965 they moved their family to Whitewater. Each time Mary Ellen had one of their nine children, she was back in the barn, with the baby in a stroller, helping milk cows and finish chores. After Donald's death in 1967, Mary Ellen ignored popular opinion about a woman in business and continued to run the farming operation with her sons. In 1971, Mary Ellen married Robert James McCulloch at St. Patrick's Catholic Church and in 1972 they had a daughter, Yvonne. Even though the marriage ended in divorce, they remained great friends until his passing in 1985. Mary Ellen was a very active member of St. Patrick Catholic Church in Whitewater and through the 55 years she attended she served as a Parish Council Member, Parish Trustee, Acolyte, and on the Christian Women's Altar Society. One thing was always clear that St Patrick was a second home to Mary Ellen.
Mary Ellen will be missed by her children: Charles (Linda), Michael (Karen), Kevin (Nancy), Virgil (Sandra),Craig (Cathleen), Anne (Brian) Morgan, Serena (Lance) Elliott, Donald (Sally) and Yvonne (Scott) Fanshaw; daughters in law: Betty, Kathy, and Lisa; as well as her grandchildren: Carrie (Jason) Mathison, Christopher (Jill) Pope, Nathan (Carrie) Pope, Abigail Zinzow, Charles J.(Liz) Pope, Michael A. Pope, Olivia (Chris) Hale, August Pope, Ryan Pope, Anson (Sara) Pope, Wade (Shalanna) Pope, Shane (Rebecca) Pope, Angie Pope, Rebecca (Paul) Morris, Sarah Pope, Virgil S.(Marissa) Pope, Elyssa Pope, Emma Pope, Audrey Pope, Jonathan Pope, Helena Pope, Ashlee (Jacob) Prochnow, Torrin (Angela) Thatcher, Madeleine (Craig) Spangler, Carli Pope, Peyton Pope, Savannah Pope, Gabriel Pope, Jenna Pope, Kenley Pope, Grace Fanshaw, and Sophia Fanshaw; 24 great grandchildren; her sister, Linae Frei; sisters in law: Agnes Frei, Shirley Thompson, and Darlene Pozin; plus many beloved nieces and nephews and close friends. She will be greeted in heaven by her sons, Mark and Paul; son in law, Thomas K. Thatcher; daughter in law, Sonja Isaacsen; grandchildren-in-law, Jason Zinzow and Teresa Pope; her parents; and siblings: Cecelia Sowles, Joseph Frei, Leo Frei, Marguerite Frei, Cletus Frei, and Patricia Clark.
Through all the hard times and tragedies in her life, Mary Ellen's faith in God and Jesus sustained her and held her up. Her strength is an inspiration to everyone who knew her and she will be greatly missed.
Due to the Coronavirus Pandemic a private burial will be held at Mt. Olivet Catholic Cemetery. A Mass of Christian Burial and a Celebration of Life will be held at later date. SCHNEIDER FUNERAL HOME & CREMATORY is assisting the family with arrangements. Donations in Mary Ellen's name can be made to the UW Carbone Cancer Center and Agrace Hospice & Palliative Care, Janesville. For online condolences and guestbook, please visit: www.schneiderfuneraldirectors.com
The family would like to thank Dr. Natalie Callender, Michelle Lackner, and the team for Multiple Myeloma at the UW Carbone Cancer Center for giving us two years longer with Mom. A grateful thank you to Agrace Hospice and Palliative Care in Janesville for their caring and kindness through the loss of mom and helping her make a dignified passing to Heaven.