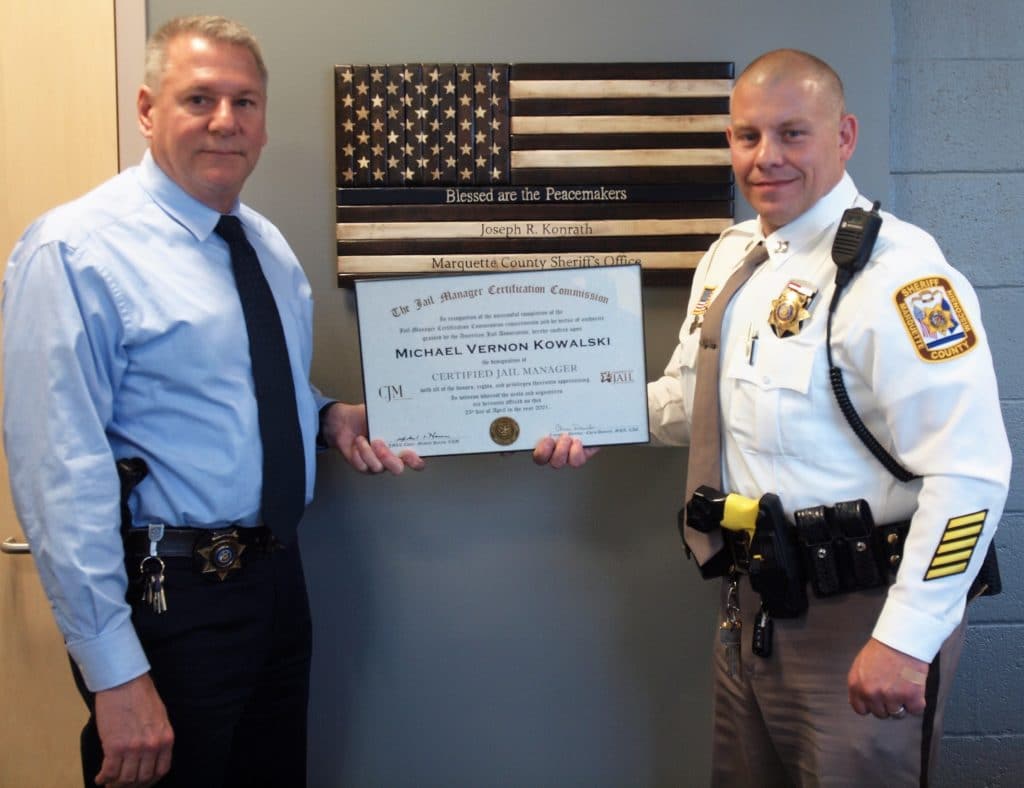 (Submitted) Marquette County Sheriff's deputy Captain Mike Kowalski can now add the letters CJM
behind his name, making him the first and only Certified Jail Manager in Wisconsin. It's quite
the honor for Kowalski, for the Sheriff's Department and for Marquette County and it didn't
come easily.

The certification is bestowed by the American Jail Association. The American Jail
Association (AJA) was incorporated in 1981 through the merger of the National Jail Association
and the National Jail Managers' Association. AJA is a nonprofit organization that focuses on
excellence in services, education, the publication of an award-winning magazine American Jails,
best practice, collaborative partnerships, and steadfast support of jail personnel. AJA "asks
every individual to recognize the American jail for what it is: a vital community agency which
renders superb service to the public 24 hours a day/7 days a week."

AJA offers certification for Jail Officer, Jail Supervisor, Jail Manager, and Correctional
Trainers. The American Jail Association says, "The Certified Jail Manager (CJM) Program was
launched in 1997. This program focuses specifically on the individual jail manager and is an
indication of his or her competency in this specialized field. Jail managers who become CJMs
are distinguished as individuals who have reached one of the highest levels of achievements in
their field."

Captain Kowalski met the stringent requirements for Certified Jail Manager and received
his certification in April of this year. He will be required to recertify every four years and meet
jail management, education, training and related leadership activities during that certification
period.

Kowalski grew up in Whitewater, Wisconsin and attended Blackhawk Technical College
doing a seven-week internship with the Rock County Sheriff's Department in 2001. He worked
for the same department until taking a job with the Marquette County Sheriff's Department in
2004.

In 2013 Kowalski became Patrol Sergeant and in 2016 Captain/Jail Administrator.
Asked what it is he likes about working in the jail, he said, "I like working with the staff of hardworking people and I enjoy working toward positive changes and improving policy and our custody manual."

The Marquette County jail serves up to 40 inmates a day. During COVID they have had
25 to 30 inmates a day and have successfully prevented COVID infections in the jail population
in Marquette County. Sheriff Joe Konrath is working towards housing an additional up to 10
inmates from other county jails in the future. These would be low risk individuals on work
release detention and would utilize jail infrastructure while generating income for Marquette
County. Presently there are 20 fulltime Deputies in the jail supervised by Captain Kowalski.
Operating a quality jail takes leadership and high standards of performance. In 2020
Marquette County received a Gold award for excellence in law enforcement policy management
from Lexipol Connect. This award was given for the extensive work completed to improve the
custody manual in law enforcement and continued actions to maintain performance levels and
knowledge of staff.

Lexipol is a risk management company for public safety and local government. The
company saves Marquette County about $30,000 a year according to Sheriff Joe Konrath. It was
County Clerk/Administrative Coordinator Gary Sorenson who brought the services to the
attention of the Sheriff that led to policy changes and updates, saving money mostly through
insurance costs. Sheriff Konrath and Captain Kowalski are administrators of the custody policy
manual. Among other requirements, Sheriff department staff are required to take regular training
bulletin educational reviews from Lexipol and their scoring in the high 90s was one qualification
for being awarded the Gold level for excellence in law enforcement policy management.
Captain Kowalski follows the lead of Sheriff Konrath and is continually seeking
education and training that helps keep Marquette County Sheriff's Department including the jail
operating under high standards. Sheriff Konrath attended the FBI National Academy in 2008,
becoming President of the Wisconsin Chapter of the National Academy from 2013 until 2017.
He sent Captain Kowalski to the National Academy in 2018.

In 2017 Captain Kowalski attended Wisconsin Command College with the Department of
Justice and became a Certified Public Manager. That made him eligible to apply for certification
with the American Jail Association.

There is a twist to the story here. In 2016 then Sheriff Kim Gaffney attended the
National Sheriff's Association conference and won an application for Certified Jail Manager.
The cost of the application was the prize because all requirements still had to be met. He passed
it on to Kowalski who put it into an envelope and kept it in his desk.
Life circumstances including back surgery and the death of his father put the quest of
CJM on the back burner, but he never forgot that he had that letter that might mean his chance to
seek the certification. When it was the right time, he pulled it out and he and the Sheriff inquired
if it would still be honored. Since the letter hadn't been dated, AJA said yes, they'd honor it and
Kowalski filled out the 20-page application. He scored well above the required 500 point
minimum and went on to take a 250-question test over four hours and received the honor of
Certified Jail Manager.

Captain Kowalski is also a State Firearms Instructor and a Canine Handler. His canine
partner Axel is now 11 years old. Sheriff Konrath said, "I appreciate Captain Kowalski's hard work and determination to stay on top of his field." That hard work brings some prestige to Marquette County. It now has the only Certified
Jail Manager in the state and Kowalski joins a professional list of people around the country who
have earned this high honor.

"If it wasn't for the support of Joe and Kim (Gaffney), I wouldn't have had these
opportunities," said Captain Kowalski. "I also really have to thank my wife Sara. I wouldn't
have been able to do this alone. She and my son Michael support me. It's not easy being the
family of law enforcement especially a canine handler. I get called out at all hours."

Adding that CJM after his name, Captain Kowalski really adds it to a list of honors and
achievements that make Marquette County special. The honor of having the only Certified Jail
Manager in the State of Wisconsin says something about how Marquette County sets standards
of professional performance.