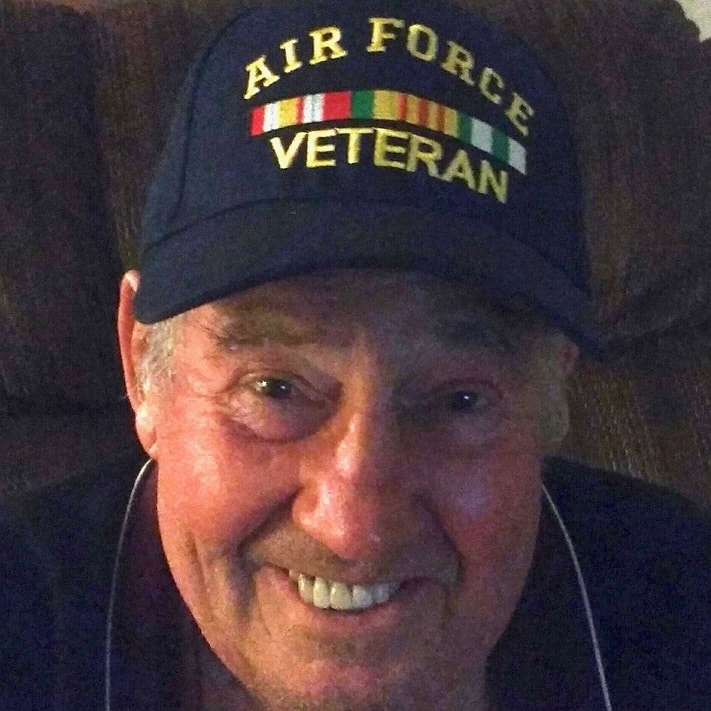 Kenneth Roger Heckert, 87, of Elkhorn, Wisconsin, passed away peacefully on Monday, April 6, 2020. Kenneth (Ken or Kenny as those who knew him would refer) was born to Elmer and Althea Heckert in Elkhorn, WI on December 23, 1932. He graduated from Antigo High School in 1951 and played semi-professional football for the Merrill Foxes for a few years and then enlisted in the Air Force. He is survived by his loving wife Janet (Jansen) of 62 years, sons Bret (Kris) of Smyrna, TN, Mark (Karen Phillips) of Elkhorn, WI, and Kevin (Sally) of Whitewater, WI. Aside from being a wonderful father to his sons, Ken was also an amazing Grandpa and Great Grandpa to Justin (Melissa), Kendyl and Kiersten Kreuziger, Logan (Whitney), Maverick, Troy, Emily, Allison, Meredith, Clare and Liam Heckert. Ken will also be survived by another Great Grandchild to be born in October. He is further survived by sisters Shirley Zalewski (Green Bay, WI) and Laura Fleming (South Beloit, IL), sister-in-law Mary (Tyke) Rice (Sun City, AZ) and brother-in-law Don (Darlene) Jansen (Whitewater, WI) and many loving nieces, nephews and extended family. Ken was preceded in death by his parents, grandparents and brother Russell (Carol) Heckert and a sister-in-law and two brothers-in-law. He was a loving father, husband, grandfather, great-grandfather and friend to everyone. He was best known for his bright smile, funny jokes, old stories and infectious laugh. Ken loved sports, especially football and college basketball. He was an avid Green Bay Packer and Wisconsin Badger fan.
Ken proudly served his country as a Staff Sergeant in the United States Air Force. He was an Air Traffic Controller with the AACS Squadron during the Korean War. His last day of service was December 14, 1955 where he left Otis Air Force Base, MA. He returned from active duty and met his beautiful future wife. Ken and Janet were married on October 24, 1957 in Elkhorn where they raised their sons. Ken worked for A.O. Smith Harvester in Elkhorn and the last few years of his career in DeKalb, IL. He retired from AO Smith in 1991. In 2018, Ken had the extreme privilege to be part of the Vets Roll project on a four day bus trip. They visited numerous locations including the US Air Force Museum, Korean War Memorial and then to Washington D.C.
When he wasn't working, Ken enjoyed working on small engines, gardening, fishing, hunting, attending his sons', grandchildrens' and great grandchildrens' many sporting events, school/church activities and the occasional round of golf with his buddies. He loved getting together with friends for breakfasts at Elizabeth's Café (Delavan WI) and Friday fish fry's at Tubby's (Elkhorn WI) or card games at home. Ken could often be found on his homemade lawn roller around town rolling lawns and roto-tilling gardens in the spring. When he wasn't using it as a lawn roller, Ken and Janet could be found in many local parades with the roller converted into the "Flintmobile" as Fred and Wilma Flintstone. He loved seeing the smiles on faces of people as they rolled down the parade route and hearing his "Yab-ba-dab-a-doo!" Ken was an active member of United Church of Christ (Elkhorn WI) where he faithfully served the Lord as a Church Trustee, maintenance and yard crew member along any other odd jobs. He enjoyed sitting outside in his lawn chair after a long day of work sipping on an ice cold Old Milwaukee, playing ball with his sons' English Springer Spaniels, petting his Miniature Schnauzers over the years (Cricket, Holly and Lilly) and watching the birds. He enjoyed deer camp in Waupaca with his brother-in-law (Stan Zalewski), sons and nephews. He also enjoyed spending time in Readstown, WI on the back porch of friends Ray and Jeanine Hummel. This was one of his favorite places to have a cocktail or two and take in all of Mother Nature's "million dollar views." Ken was always there to help relatives and friends with household projects, fixing yard equipment and many other things. Ken was loved dearly by his family and friends and will be greatly missed.
Ken's family would like to give a special thank you to the staff at Vintage on the Pond (Delavan WI) who cared dearly for Ken over the last few years and especially during his final days. They would also like to thank Pastor Scott McLeod, Dr. Fehling and the Cardiology teams of St. Luke's Hospital, Lakeland Hospital and Aurora Healthcare. He passed away knowing he was loved by many. Also, the family would like to extend their sincerest gratitude to Haase Lockwood Funeral Home and Crematory for being very accommodating and understanding during this difficult time. A Celebration of Life and Burial with military honors will be held at a later date due to the Safer at Home orders.
Memorials can be made in Ken's name to the Vets Roll project. Donations can be made online at www.vetsroll.org or via mail to: Vetsroll.org, c/o Finnegans' RV, 1777 Gardner Street, South Beloit, IL 61080.