Jean L. Steinhoff, 88, of Palmyra, Wisconsin, passed away on Sunday, August 18, 2019, at UW Hospital.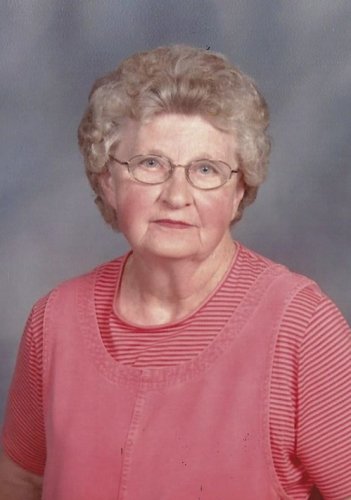 Jean was born May 1, 1931, in Pleasant Valley, the daughter of Albert and Edna (Lundt) Emery. She grew up in rural Jefferson County and was a 1949 graduate of Palmyra High School. Jean married John Steinhoff on September 16, 1950, at St. Theresa's Catholic Church in Eagle. The couple enjoyed 37 years of marriage until John's death in 1987.
Jean worked in the lunch program at Palmyra Elementary School. She was the Friday night fish fry hostess at the Nite Cap Inn for many years and later the Cornerstone Restaurant. She enjoyed seeing her regular customers each week and hearing about their families.
Jean enjoyed gardening and was proud of her colorful flower gardens. She also enjoyed decorating her home for every holiday, especially covering her Christmas tree with angels. Her front porch was always decorated with lights for the season.
Jean was a long-time member of St. Mary's Catholic Church in Palmyra. She served as a Parish Council member and was a member of the St. Mary's Women's Club. Over the years she baked countless desserts for parish events.
The most important thing in Jean's life was her family. She was a loving wife, mother, grammy, and great-grammy. She loved baking cakes for birthdays, weddings, and graduations. She hosted the entire family for holidays and always made an assortment of delicious desserts. Jean's recipes will live on as her grandchildren make delicious food from her hand-written cookbooks which she gifted them. She made sure her family and friends received a Hallmark card for every special occasion. Jean was a caring, thoughtful, and determined woman. Her children, grandchildren, and great-grandchildren miss her dearly.
Jean is survived by three children, Bonnie (Glen) Schaefer of Fort Atkinson, Steven (Linda) Steinhoff of Palmyra, and Susan Mehring of Fort Atkinson; seven grandchildren, Michael Steinhoff, Juliana (Timothy) Gebhart, Alex (Emily Bralick) Mehring, Benton Steinhoff, Jonathan (Laura) Schaefer, Eric (April) Mehring, and Lacey Mehring; a great-grandson, Connor Gebhart; six step-grandchildren; ten step-great-grandchildren; a special sister-in-law, Janice Emery; and a special cousin, Sister Ellen Shannon. She is also survived by a number of nieces, nephews, cousins, a brother-in-law, and friends.
Jean was preceded in death by her parents; her husband, John Steinhoff; her brother, Roger Emery; sisters-in-law Carol Foelker and Catherine Eaton; and a brother-in-law James Foelker.
Visitation will be held on Thursday, August 22, 2019, at Gibson Family Funeral Home in Palmyra from 5:00 p.m. until 8:00 p.m. Funeral services will be held at 11:00 a.m. on Friday, August 23, 2019, at St. Mary's Catholic Church in Palmyra. Jean will be laid to rest on Friday at 3:00 p.m. at St. Theresa's Catholic Cemetery in Eagle.
Memorials in Jean's honor may be made to St. Mary's Catholic Church in Palmyra in lieu of flowers.
The family wishes to extend their heartfelt thanks to the staff on D6 at UW Hospital for their compassionate care.
Gibson Family Funeral Homes of Eagle and Palmyra, WI is serving the family. To place an online condolence please visit gibsonfuneral.com.