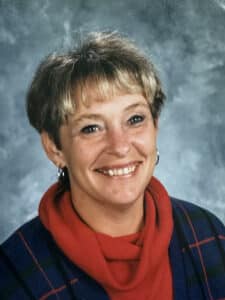 "Those we love and lose are always connected by heartstrings into infinity."
In memory of Nancy A. Noack, who passed away at the age of 75 in Whitewater, WI on March 16, 2020.
Nancy was born in Milwaukee, WI, daughter of Raymond Noack and Evelyn (née Neubauer) (Noack) Brill in January 1945.
She attended St. Ignatius Loyola for grade school and graduated high school from St. John's Cathedral.
One of Nancy's proudest lifetime accomplishments was to attend UW-Whitewater, where she earned membership into Alpha Chi and Phi Kappa Phi honor societies. She graduated in 1982 as magna cum laude with a B. S. of Education, all as a married woman and mother of three young girls.
While Nancy raised her family in Oconomowoc, she thoroughly enjoyed her career working as an elementary school librarian and promoting reading programs within the East Troy school district. There she developed some meaningful lifelong friendships with fellow co-workers, and she completed 21 years of service before taking an early retirement.
Nancy later moved to Mukwonago and lastly Whitewater, where she was blessed to make some loving friends in the local community.
Nancy had a generous, kind and loyal soul and fiercely loved her family and friends. She was sensitive, sentimental and extremely thoughtful.
One of many ways she showed her love was through food. She was a talented baker, and her legacy will live on through her decorated sour cream cut-out cookies. She also enjoyed hosting her annual ethnic-themed holiday parties for some of her close friends.
Nancy had a creative mind and loved exploring many arts and crafts, as well as gardening. She was an excellent seamstress and relished taking on crafting challenges. Nancy had a deep-rooted and lifelong passion for learning and reading, which she also instilled in her children.
Nancy was preceded in death by her father, her mother and her beloved older brother, James Noack.
Nancy is survived by her daughters: Linda Karpinski, Kathleen Wade (Scott Dallasta) and Ellen Karpinski (Jamal Ghanname) as well as her grandson, Zachary Karpinski (Caroline Vaughan). Nancy would have been overjoyed to welcome her great-granddaughter, Harlow, into the family.
Also left behind were her furry constant companions: Miranda, Ernie and Jelli Bean.
Nancy's family would like to thank all those who came for visits and helped care for her during her last months, especially her sister-in-law, Mary, and her Mercyhealth Hospice team.
The Nitardy Funeral Home of Whitewater, WI assisted the family. No service was held due to COVID-19 restrictions.