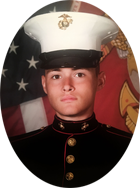 On the evening of Friday, January 26, Deputies and Officers will be escorting the family of PFC Barclay-Weberpal to receive PFC Barclay-Weberpal at General Mitchell Airport in Milwaukee, WI. The public is invited to line the escort route, to pay respects to PFC Barclay-Weberpal.
From PFC Barclay-Weberpal's dad, Scott Weberpal:
Thank you so much for the time you put in to honor our son. For everyone who can, please line the streets for his return to Janesville from the airport.
At approximately 5:30 PM (updated from the previous estimate of 6:15 PM), the escort will begin from General Mitchell Airport to Whitcomb-Lynch Funeral Home in Janesville. The escort route is as follows :
– I-94 from General Mitchell Airport, to S I-43
– S I-43 to W STH 12
– W STH 12 through the City of Whitewater (Elkhorn Rd. to E Milwaukee St. to  Main St to Whitewater St to Janesville St. to Walworth St)
– Walworth St to E CTH N in Rock County
– E CTH N to Milton Rd
– Milton Rd to E STH 59 (E Madison Ave) through the City of Milton
– E STH 59 to E CTH M
– E CTH M to N USH 51
– N USH 51 to W Memorial Dr
– Memorial Dr to N Oakhill Ave
– N Oakhill Ave to W Court St
– W Court St to Austin Rd, Arrival at Whitcomb-Lynch Funeral Home
View route on Google Maps (Map updated with new route through Whitewater)
During the escort, updates will be available on delays/location of the escort, on the Rock County Sheriff's Office Facebook page. 
For PFC Barclay-Weberpal's obituary,