The gymnastics team traveled to Southwestern High School for another Invite on Saturday, January 21. There were a lot of amazing gymnasts competing and some super fun routines to watch and cheer on. It was fun to see all the teams supporting and cheering for each other despite being from different schools. Our girls had a great day and posted some awesome scores!
Our strongest rotation was on the Vault where the girls crushed it. Not only did the varsity team have their highest team score of 31.075; 3 girls had lifetime best scores. Makayla Bazeley posted a 7.95, Nola Coburn posted an 8.0, and Mady Hefty posted an 8.275. These scores were all significantly higher than their previous Vault scores.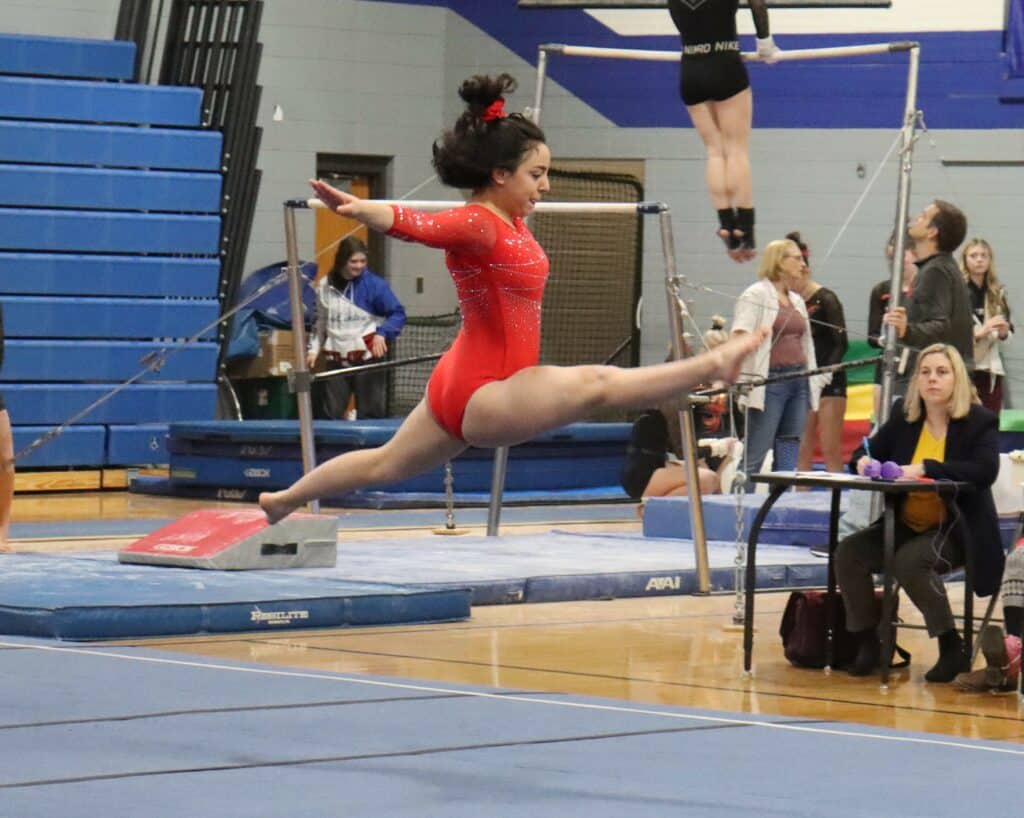 The girls took on the Beam, and despite a few falls amongst the team, we did have one gymnast have a no fall Beam routine – Brooke Bazeley.  We also had some notable improvements in scores. Nola Coburn scored a season best with a 6.6, while Brenda Aguilar knocked her old score out of the way and scored a season best of 6.8. The varsity team had their highest score of the season with a 26.8. We love seeing these numbers climb!
On the Floor, we heard a lot of teams cheering for us which always gives us a boost. The girls are really pushing themselves and it shows. Brenda competed for the first time this season on Floor and slayed the day with a lifetime best of 7.2. Nola improved her season best with a 6.9, while Stephanie Walters improved her season best with a 6.3. Makayla Bazeley added a beautiful shushunova into her routine and earned herself a 7.85.
Last rotation was on Bars where the girls continued to shine. Stephanie fought for and earned a season best of 4.3. Mady upped her score from last week with another season best score of 5.95. Makayla decided at the last minute to add in a new move on Bars to spice it up and be adventurous – she likes to keep us guessing. She added a switch kip after her double cut catch to earn a 7.05. Love watching the girls attempt and succeed in new moves.
Mady competed in All-Around for the first time this season and earned 27.525. It's such an awesome deal when the girls compete in all 4 rotations. Stephanie earned her highest All-Around score with 20.05. Both Nola and Makayla scored lifetime bests in All-Around as well with 26 & 30.1, respectively.
We have a little break from competition through finals week and then will be back to competing on January 31st against Badger.
Article and Photos Submitted by Shawnda Peters
Whitewater High School Head Gymnastics Coach
speters@wwusd.org