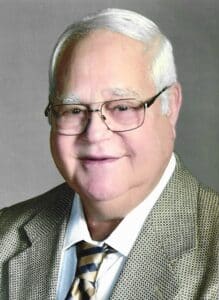 Gerald "Jerry" G. Nell, 78, of Whitewater passed away peacefully on June 2, 2023.
Jerry retired from the Milwaukee Police Department after 30 years of service. He also served in the United States Army and retired from the United States Air Force while at the 128th Air Refueling Group Milwaukee.
He was the beloved husband of Janet (nee Rabiega) for 44 years; loving father to Jeffrey (Jolene) and Scott; and proud grandpa to Allyson, Caleb, Sam, and Andrew. He is further survived by a brother, Conrad (Hildy); brothers-in-law, John (Carol) Zak, Tom (Sheila) Zak; sister-in-law, Barbara (Nicholas) Acevedo; as well as nieces, nephews, other relatives, and friends.
Jerry is preceded in death by parents, Marcella and Walter Nell; brothers, Wally Jr. and Roger.
Visitation will be held on Monday, June 12, 2023 from 10 a.m. until noon at St. Jacobi Evangelical Lutheran Church, 8605 West Forest Home Ave., Greenfield, WI 53228, followed by the funeral service. Burial will follow the funeral service at St. Adalbert Cemetery.
Nitardy Funeral Home is assisting the family with arrangements. Online condolences can be made at www.nitardyfuneralhome.com