On Saturday, two Whippet Wrestlers traveled to Evansville to participate in the WIAA Sectional Wrestling Tournament. David Cushman and Carter Friend represented Whitewater very well on Saturday, both wrestling top notch matches during the day.
David started off the day with a tough loss in the first round to an eventual state qualifier from Viroqua. David was fortunate to get a wrestle back because his guy made the championship. David had a tough task ahead of him in facing a returning state qualifier from 2019 in a Lodi opponent. David imposed his will and set the pace early on taking a 6-2 lead after the first period with three outstanding takedowns. David finished the match off winning 8-4 to put himself into the 3rd place match. Unfortunately, David fell in this match 7-2 thus just missing out on punching his ticket to the State Tournament.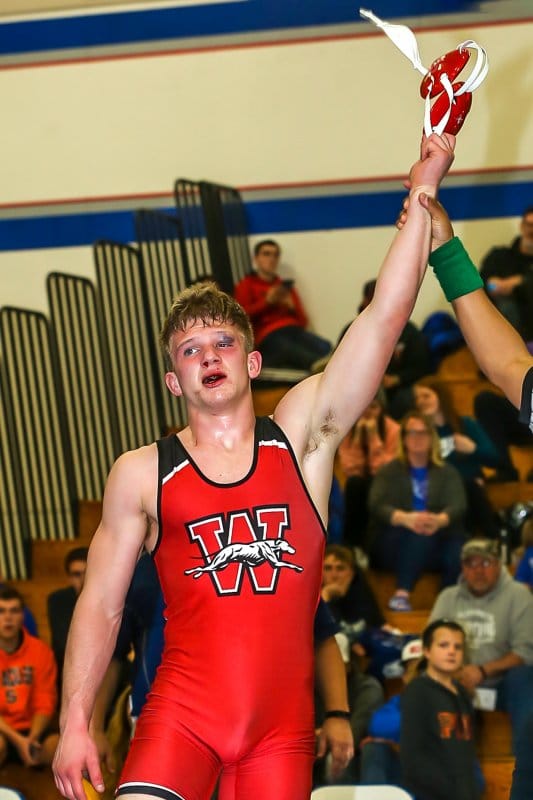 Carter started his day off with a big win over his Darlington opponent 17-9. This was a good warm up for Carter as he had a very good opponent in the semi-finals from Richland Center who is a strong kid who historically is a pinner. Carter came out and took charge right away getting the victory 9-4 to put himself into the championship match. Here he found himself against a very familiar foe in a Beloit Turner opponent whom he has competed against 6 times now over the year. Unfortunately, Carter dropped this match. Because he had not wrestled the guy who took 3rd Carter had a wrestle back and just was not himself as he admitted. He ended the day in 3rd place, high enough to punch his ticket to his first trip to the WIAA State Wrestling Tournament. 
Carter will be competing at the Kohl Center on Thursday night, starting at 7:00. Thank you to all the fans who traveled to Evansville to support our qualifiers. It was much appreciated.
Article and Photo Submitted by Coach John Schimming.