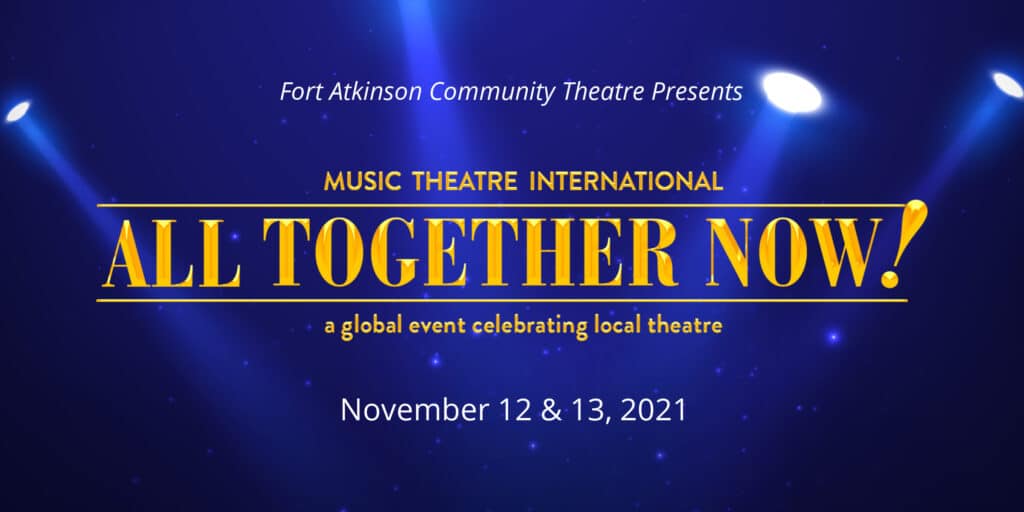 Editor's note: The following information was provided by the Fort Atkinson Community Theatre.

From Broadway to Fort Atkinson, theatres around the world have struggled in the wake of the COVID-19 pandemic. Many have "gone dark" and some may have even closed their doors for good. Thankfully, with health risks starting to subside, live theatres are reopening, and the licensing company Music Theatre International (MTI) is giving them the perfect opportunity to "stage" a comeback.

In April of this year, MTI announced the creation of a brand-new musical revue called All Together Now!, which is meant to serve as a fundraiser for revitalizing local theatres. The show features selections from several of their most popular musicals such as Mary Poppins, Rent, Les Miserables, Mamma Mia!, and many more. Described as a "global event celebrating local theatre," All Together Now! will only be performed during the weekend of November 12-14, creating a sense of musical togetherness on a worldwide scale.

Fort Atkinson Community Theatre (FACT) is thrilled to be participating in All Together Now!, which will be the group's first stage performance since November 2019. Director Jason Teeter has gathered an incredibly talented cast of twenty-seven voices from around the area, including Stephanie Aegerter, Maddy Buchta, Molly Button, Cathy Daly, Molly Ebel, Tessa Fitzsimmons, Annalis Goeschko, Norman Goeschko, Kaile Goodman, Anne Grover, Christine Hamele, Alexia Klein, Jason Konz, Niina Ajango Konz, Kassie Kucken, Eric Lonsdale, Amy Lothary, Paul Lothary, Brenda Nitardy, Jodi Ratcliff, Becky Schultz, Tim Stachowiak, Grae Szabo, Amelia Teeter, Holly Teeter, Jason Teeter, and Karen Wydeven.

Performances will be held at First United Methodist Church, 320 S. Main St., Fort Atkinson, with dates and times as follows:
Friday, November 12 – 7:30 pm
Saturday, November 13 – 2:00 pm & 7:30 pm

All Together Now! is a fundraiser for FACT, and while admission is free, donations are highly encouraged. Cash, check, and credit card will be accepted at the door, or you may donate online at www.fortfact.org.

Come and sing along, All Together Now!