Editor's note: The following information was provided by the Irvin L. Young Library.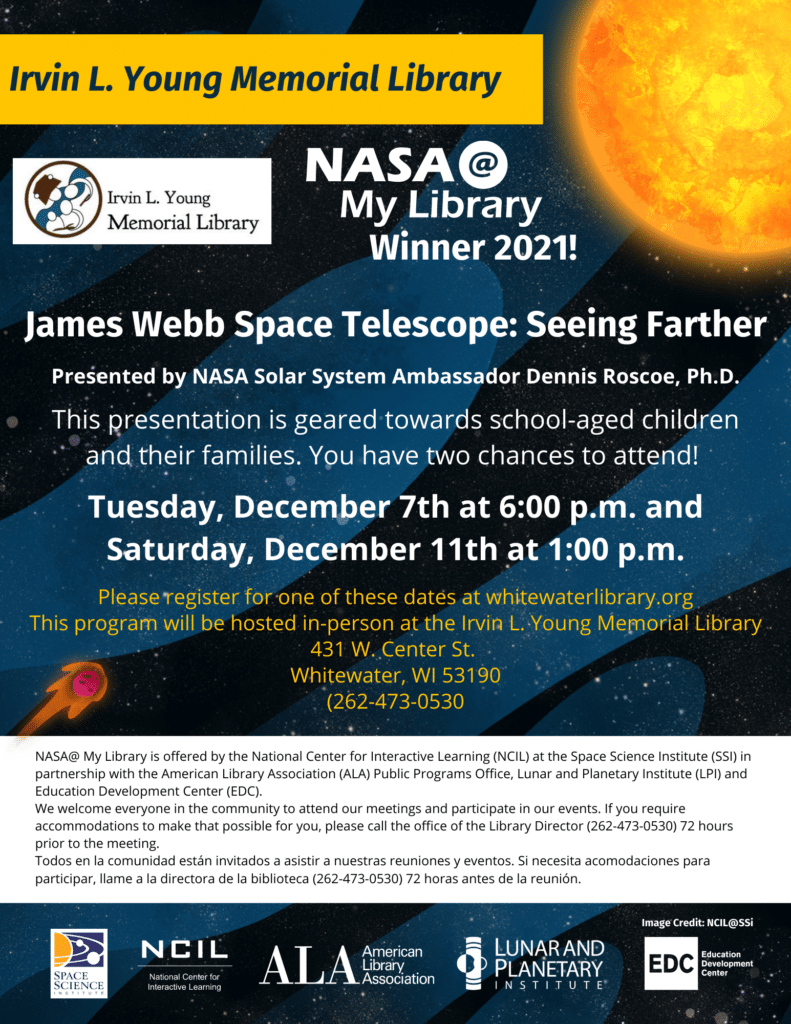 The Irvin L. Young Memorial Library invites you to our first NASA@ My Library program!
In the Irvin L. Young Memorial Library Community Room
Presented by Dennis Roscoe, Ph.D. NASA Solar System Ambassador
Tuesday, December 7th at 6:00 p.m. and Saturday, December 11th at 1:00 p.m.
The presentation will be the same on both dates so please register for ONE of the presentations at whitewaterlibrary.org
The James Webb Space Telescope is going to be the Marvel Superhero that discovers how the first galaxies were built over 13 billion years ago. With its infrared eyes, Webb will be able to see through interstellar dust and clouds and allow us to witness the birth of stars and planets. Is there life on planets beyond our own solar system? Webb may find the answer by analyzing the atmospheres of exoplanets. Join us on this incredible journey through the universe. This program is geared towards school-aged children and their families.
NASA@ My Library is based upon work funded by NASA under cooperative agreement No. NNX16AE30A. Any opinions, findings, and conclusions or recommendations expressed in this material are those of NASA@ My Library and do not necessarily reflect the views of the National Aeronautics and Space Administration.