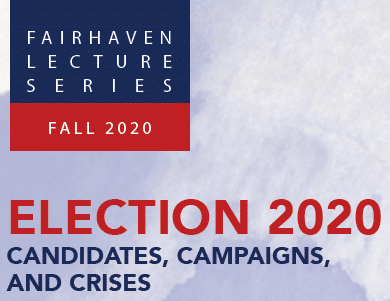 With just days left, there is still lots to examine and even more once the ballots have been cast and counted. UW-W faculty experts analyze the data, cut through the rhetoric, and revisit past elections to guide the public through this unpresented campaign season.

Since 1983, Continuing Education has hosted the Fairhaven Lecture Series, where faculty share their expertise on topics from art to economics and more.

This fall, we invite you to join us online for live lectures or tune in at your convenience for videos of past lectures. There's plenty more in store this fall!Follow us on our Facebook page for updates. Visit our YouTube channel for videos from this and past series. Any other questions, please contact Kari Borne at bornek@uww.edu or 262-472-1003.

Upcoming lectures are: 
Monday, October 26 at 3:00 pm
One Week Left: The Final Days of the 2020 Campaign and What to Look for on Election Night    Eric Loepp, assistant professor, Political Science
Click here to join the live event.   

Monday, November 9 at 3:00 pm Election Results: Winners, Losers, and What Happens Next 
Political Science Faculty Panel
Click here for a link to join the live event.






Videos of Past Lectures in this Series on YouTube:
 
A Recap of the 2020 Presidential Nomination Process  |  Susan Johnson, associate professor, Political Science and assistant dean, College of Letters and Sciences
 
COVID on the Campaign Trail: The Role of COVID-19 in 2020 U.S. Presidential Campaign Communication  |  Corey Davis, professor, Communication
 
Presidential Elections in Times of Crises  |  Dick Haven, professor emeritus, Communication
 
Still More Lectures Coming Soon to YouTube:
 
Who Owns the Central Bank? Monetary Policy, Government and Elections  |  Eylem Ersal, associate professor, Economics

Natural Disasters, Man-made Calamities & the Economy: Making or Breaking the Incumbent President in an Election  |  Krastina Dzhambova, assistant professor, Economics

Fiscal and Monetary Policy Responses to Covid-19 and its Implication on Presidential Elections  |  Narendra Regmi, assistant professor, Economics

Presidential Transitions: Understanding the Period between Campaigning and Governing  |  Louis Fucilla, assistant professor, Political Science

 Lectures in the Fall 2020 series will be held virtually. Lectures may be held live via WebEx or pre-recorded, and videos of all lectures will be posted to our website. Videos of lectures can be accessed for free any time after they are posted online.
 
Check out our website and follow us on social media for updates and how to access each lecture. For videos of past series, click here. Any other questions, please contact Kari Borne at bornek@uww.edu or 262-472-1003.