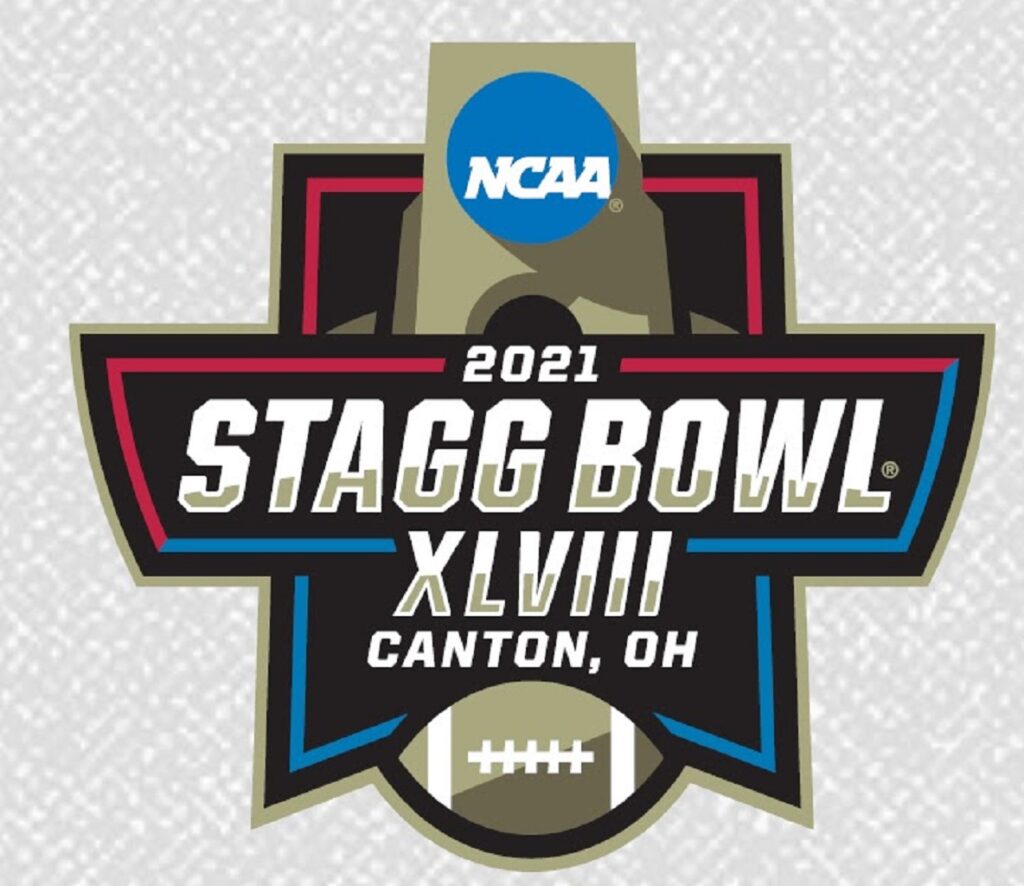 NCAA DIII Football Championship Tickets on Sale Now
Ohio Athletic Conference and Visit Canton host Stagg Bowl at Tom Benson Hall of Fame Stadium
Canton, Ohio – The 2021 NCAA Division III Football Championship is in Canton, Ohio at Tom Benson Hall of Fame Stadium.  The national championship Stagg Bowl kicks off Friday, December 17th at 7:04 PM ET.  Tickets are on sale now at NCAA.com/tickets.
Game tickets are $20 for general admission stadium seating.  Student and youth general admission stadium seating is $10 per ticket, for children under 18 or with a valid student ID. 
Club Access seating is $35 per ticket. Club Access tickets feature premium cushioned stadium seats, centrally located on the first level of the south stands. Seating within the stadium's Club Access section is general admission. Only those with Club Access seating will be admitted into the Club Lounge at Tom Benson Hall of Fame Stadium. The Club Lounge is temperature controlled with concessions available for purchase. The Club lounge has alcohol for purchase for adults 21 years of age and older. All alcohol must be consumed within the Club Lounge and cannot be taken outside into the stadium or stands. Alcohol will not be sold anywhere else in the stadium for the event. A limited quantity of Club Access seating is available.
All 2021 NCAA Division III Football Championship Stagg Bowl tickets are available for sale online only.  There are no onsite ticket sales at the stadium or entry gates.  All tickets are on sale now at NCAA.com/tickets.
The 2021 NCAA Division III Football Championship is co-hosted by Visit Canton and the Ohio Athletic Conference. The game will be contested on Hall of Fame Field inside Tom Benson Hall of Fame Stadium. The 20,000 seat, world-class stadium is part of Hall of Fame Village powered by Johnson Controls, a multi-use sports, entertainment and media destination centered around the Pro Football Hall of Fame museum.
OAC Commissioner Sarah Otey says, "The Ohio Athletic Conference is excited to partner with Visit Canton to bring the 2021 Stagg Bowl to the great state of Ohio. Canton and Stark County are unsung heroes in the Ohio tourism industry, with so much to offer in terms of culture and entertainment – and the Pro Football Hall of Fame campus will be the perfect venue to host the two finalists and their fans."
The Pro Football Hall of Fame is extending a discount off admission over the weekend of Stagg Bowl.  Friday, December 17, through Sunday, December 19, present the NCAA DIII Football Championship ticket at the Pro Football Hall of Fame box office window to save $4 off purchase of museum admission.
Banner note: As is indicated above, online sales will be the ONLY way to purchase a ticket. There will be no paper tickets; it's expected that fans will be able to show their mobile ticket on a smartphone. Anyone who does not have a smartphone is asked to contact the ticket office.
Canton, OH is 493 miles from Whitewater. It appears this is the closest the Stagg Bowl has been played to Whitewater except for 1983-84, when it was located in Kings Island, OH. In 2018-19 it was in Shenandoah, TX (1109 miles), and from 1993-2017, Salem, VA (771 miles). The location for 2022 is Annapolis, MD (830 miles). The game returns to Canton in 2025, with intervening games being played in VA and TX.