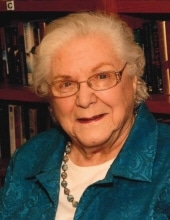 Doris L. Keiser of Oconomowoc, age 89, passed away on Friday, February 5, 2021, at The View at Pine Ridge due to complications from Covid-19, pneumonia, and congestive heart failure. She was born on September 21, 1931, to Rudy (Dora) Krause in Chicago. She was married to William Keiser. She was preceded in death by her husband, Bill, and her parents.
Doris is survived by her children: Robin (Lynn) Keiser, Randy (Sandy) Keiser, Douglas (Sharon) Keiser, Richard (Brenda) Keiser, and Charles (Lisa) Keiser, her grandchildren: Tera (Mike), Bryan (Ashley), Kevin, Jeff, Lori, Jon (Courtney), Kelly (Adam), Kerry, Jenna, Samantha (Jay), Austin (Stephanie), Forest, and Noah; 17 great-grandchildren; her brother, Russell Krause; her niece, Sara (Tim) Cody; and her "sixth son", Rob (Pam) Hicklin. All of whom she loved and touched deeply.
Doris lived on a small farm with Bill where she enjoyed gardening and raising her boys. Doris worked for many years at First English Lutheran Church in Whitewater. She loved her hobbies which included: quilting, calligraphy and creating ceramic dolls. Doris most enjoyed spending time with her family and friends. She especially loved being with her grandchildren and great-grandchildren. She made friends everywhere she went and had fun getting involved in lots of activities.
She will be dearly missed but will live on in our hearts for generations.
A memorial service will be planned in the future to celebrate Doris' life.
Memorials in Doris' name may be made to First English Lutheran Church and Heart Prairie Church, 401 W. Main Street, Whitewater WI, 53190, or Immanuel Lutheran Church, 204 N. 10th Street, Watertown WI 53094.
The family would like to express their sincere thanks to the staff at Advocate Aurora Medical and the View at Pine Ridge in Oconomowoc for their wonderful care and support of Doris.