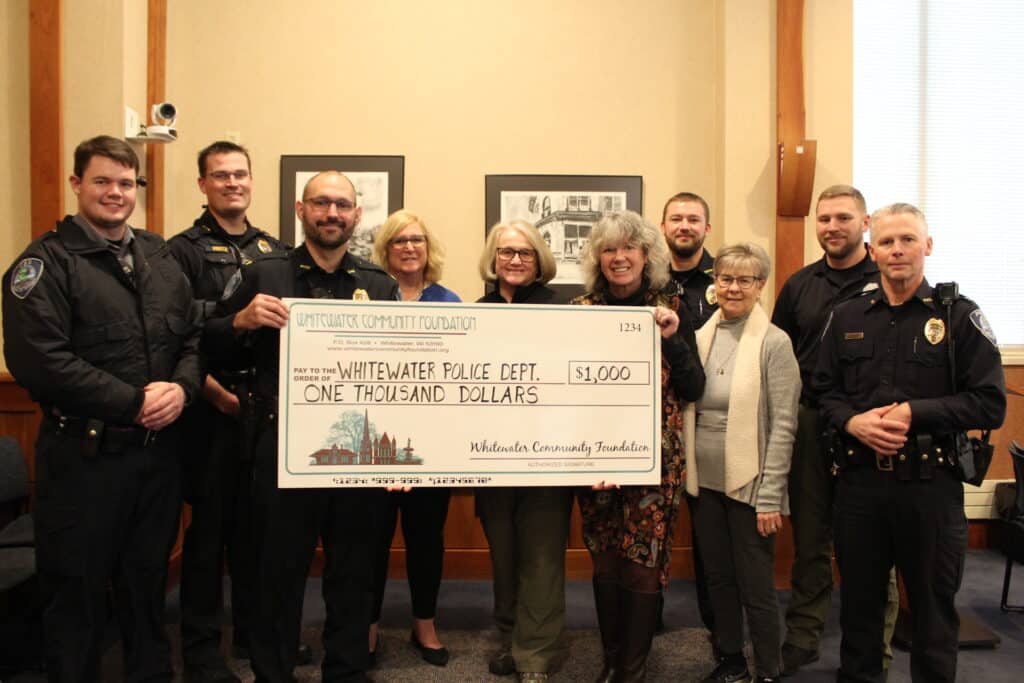 GRANT AWARDED TO WHITEWATER POLICE DEPARTMENT
The Whitewater Community Foundation is proud to support the Whitewater Police Department with a $1,000 Community Action Grant which will be used to offset the costs associated with their efforts to improve outreach and communication through interpretation services while providing assistance to individuals unable to speak or understand the English language. Timely, accurate and reliable translation services are essential and vital to saving lives, now more than ever. Interpretation services have provided staff with the ability to assist members of our community during a wide range of calls for service from simple information requests, to assisting victims of significant crimes, and providing emergency medical assistance. The Whitewater Police Department is a full-service, community oriented and state accredited law enforcement agency consisting of 24 sworn officers and 13 civilian personnel, including a 24/7 Communications Center. Working together as a team under the leadership of Chief Dan Meyer, every effort is made to be innovative, professional and responsive to public safety concerns of our community. The Foundation extends their gratitude and appreciation to the Whitewater Police Department for their service to this community.
About WCF: The Whitewater Community Foundation's mission is to "Enhance quality of life in the Whitewater area via educational, cultural, charitable or benevolent expenditures" through scholarships and community action grants. To donate and support the Foundation, simply send a check made out to Whitewater Community Foundation to P. O. Box 428, Whitewater, WI, 53190, or donate online at whitewatercommunityfoundation.org. For tax purposes, the Whitewater Community Foundation is a 501(c)(3) Corporation.