What a day for the Whippet CC Teams! In what were nearly perfect race conditions, the Whippet CC Teams were back in action to participate in the 84th Annual Janesville Midwest Invitational hosted at Blackhawk Golf Course on Saturday, September 24. The event boasts 50 teams that are all extremely high caliber and is more than a meet; it is an event. They were tasked by the coaching staff to try some new things today in the races and see if they could produce a result that would be not otherwise attainable. Whitewater didn't disappoint and walked away with some new personal bests and experiences that will last a lifetime.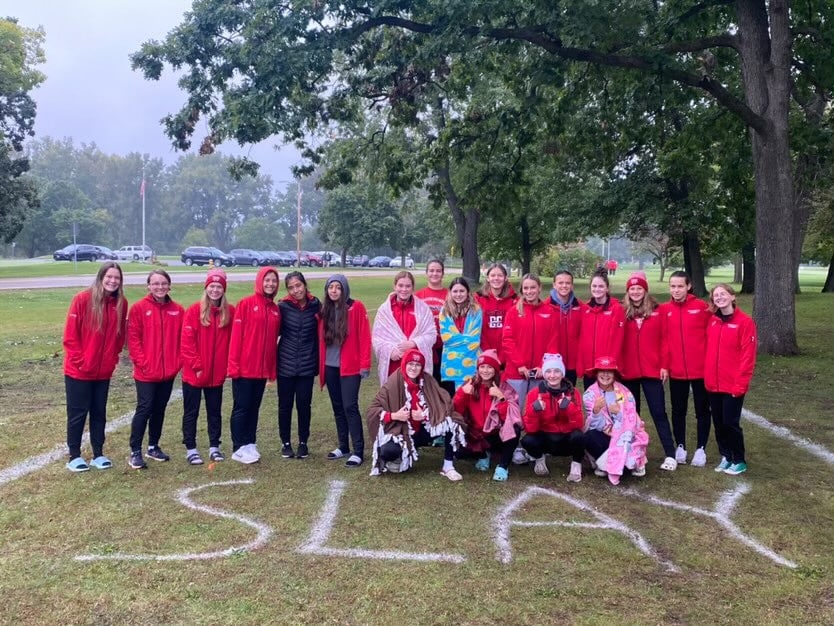 The girls' varsity was first to compete in this hotly contested event with 109 girls running under 21:00 for 5000m. These girls weren't deterred and were motivated by the "slay" writing on the course. Every girl PR'd for the season and had an average time drop as a group of 67 seconds. Mady Hefty paced the Whippets with a massive PR of 21:24. From top to bottom they stayed committed to each other and the power of the team to achieve new personal bests. The collective efforts afforded them an overall place of 37th out of 50 teams in this incredible meet. The JV team picked up where the varsity left off and even brought some medals home. Isabella Aranda placed 25th and Jackie Franco debuted in her first race to take the final medal in 30th. As a collective group, several runners dropped minutes off their personal bests from before! The JV squad took 10th place overall.
The boys' varsity race featured some outstanding times as well. In this hotly contested race, 106 boys ran under 17:30 which shows how deep the field was today on their end. Jack Hefty earned the final medal by placing 30th with a time of 16:34.5. The five runners in this event all improved by an average of 30 seconds and finished 34th out of 50 teams. The JV boys stayed gritty as well and just crushed their races. Sterling Truesdale was electric on the course to pace the Whippet JV team with a new PR of 21:38. The team all improved by an average of 1:17! The JV team finished 34th out of 50 teams.
Full Results: https://wi.milesplit.com/meets/496172-midwest-invitational-2022/results#.Yy-6h3bMK3B
The Whippets will compete in their final regular season event on Saturday, October 1st in Platteville for the Dick McKitchan Invite. Races begin at 9:00 am.
Article Submitted by Chad Carstens
Whitewater High School Head Cross Country Coach
ccarstens@wwusd.org
Photos Courtesy of Jeff Hefty