Article and Photo By Kelly O'Hara
Whitewater High School Head Gymnastics Coach
OHaraKL17@uww.edu
On Tuesday, February 2nd, the Whitewater Whippet Gymnastics Team competed against Waterford in a dual at Whitewater High School. This was also Parents' Night and Senior Night. The gymnasts had a successful meet making many individual improvements.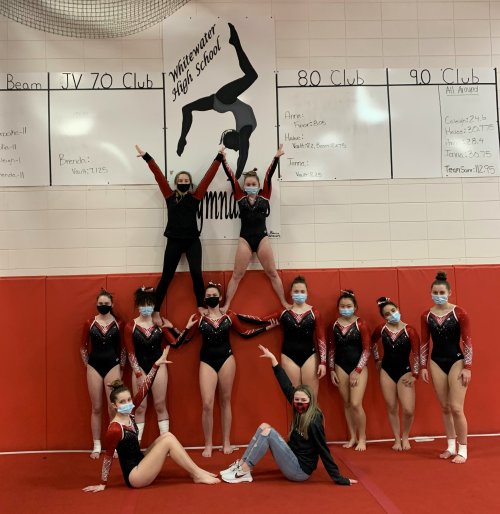 The highlights of the meet included our Senior Jenna Caldwell scoring an 8.15 on Vault, a 7.225 on Floor, and a 29.725 in the All-Around. Halee Peters scored an 8.15 on Vault and a 7.6 on Floor. Caleigh Yang scored a 7.55 on Beam and a 7.475 on Vault. Anna Ejnik scored a 7.05 on Beam and an 8.05 on Vault. Brenda Aguilar scored a 7.2 on Vault and a 6.95 on Floor.
Lastly, on the Junior Varsity side Lauren Buehler scored a season high on the Vault scoring a 7.45. She also scored a 6.6 on Beam. Isabelle Dieter also scored a season high on Vault scoring a 7.35. Brooke Bazeley scored a 5.1 on Floor, and Alexis Kuhnke scored a 6.3 on Vault.
If you want to see more flips and twists, support your Whippet athletes as they attend the Platteville Invitational on Saturday, February 6th. Goooo, Whippets!!!